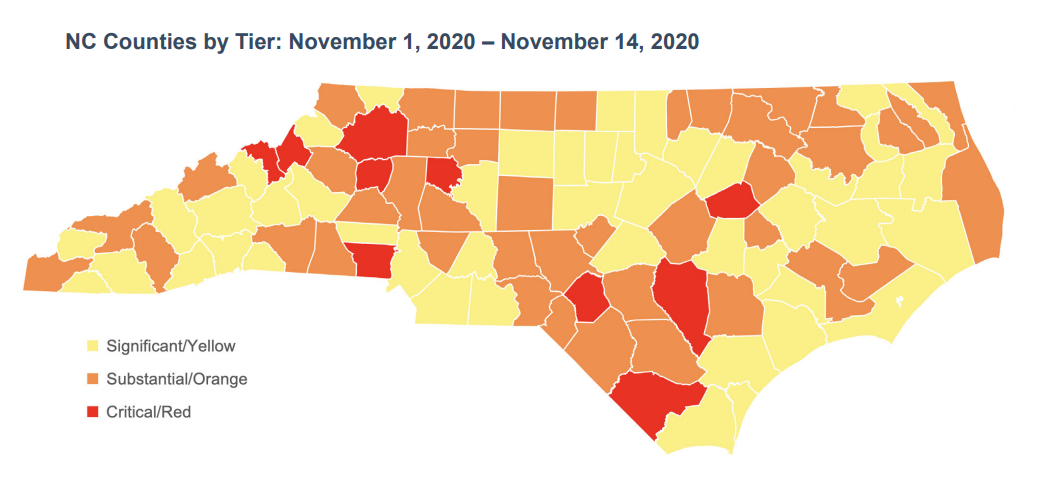 A new state COVID-19 alert system labels Alexander County among the 10 most at-risk locations for the virus.
Alexander County is listed with a critical amount of community spread of COVID-19. Catawba and Caldwell counties are ranked as having substantial community spread. Burke County is labeled with significant community spread, the lowest level.
The N.C. Department of Health and Human Services produced the new tool that ranks counties' community spread levels red, orange or yellow — critical, substantial or significant.
The labels are based on the latest 14-day increase in cases in each county, broken down per 100,000 people, the average percent of tests returned positive for 14 days and the status of hospitals in the area, including available beds, according to the new alert system.
With each ranking comes a set of recommendations for individuals and local governments, Gov. Roy Cooper said during a press conference on Tuesday. If those recommendations are followed, the state could avoid statewide mandates, he said.
"It can help bring down their (counties') case rates, keep their communities safer and save lives," he said. "If our metrics keep moving in the wrong direction, the state could impose additional orders."
The recommendations for red and orange counties included advising individuals to avoid areas with a lot of people, like bars and restaurants, and limiting interaction with people living in other households.
Businesses are asked to encourage teleworking and consult with NCDHHS to find ways to reduce spread in the workplace.
Local governments are advised to increase testing availability, adopt civil penalties for violations of current executive orders, enforce mass gathering limits or add additional restrictions to public businesses.
The ratings will be updated every month.
In a Harvard University analysis and rating of U.S. counties, Catawba, Burke, Caldwell and Alexander counties are all considered at a "tipping point" for COVID-19 infections.
The COVID-19 risk level dashboard mapping tool compiled by Harvard Global Health Institute uses information on cases reported each day and calculates the average number of new COVID-19 cases reported per day per 100,000 people in the county over seven days.
If a county reports less than one new case per 100,000 people per day, it is considered at risk level green: on track for containment. If there are one to nine new cases per 100,000 people, the county is considered risk level yellow: community spread. Ten to 24 new cases per 100,000 is considered risk level orange: accelerated spread. Risk level red is reserved for areas with 25 or more new cases per day per 100,000 people.
Catawba, Burke, Caldwell and Alexander are all considered risk level red —along with about 40 percent of North Carolina counties.
Though the data is a few days behind the most current information reported locally, the map shows Catawba County with 43.4 new cases per day per 100,000 people over a seven-day time period. It is the third-highest in the state, behind Alexander County with 61 average new cases per day per 100,000 people and Columbus County with 68.5.
Burke County has an average of 40.3 over seven days and Caldwell County has 26.1, according to the map.
The guidance from the Harvard Global Health Institute and partners that put the information together suggests counties considered to have red level severity of COVID-19 cases should put stay-at-home orders in place to stop the spread of the virus.
Catawba County reported three new COVID-19-related deaths on Tuesday, according to Catawba County Public Health. The county also reported 111 new coronavirus cases.
The latest deaths are all in people over 80 years old, Community Engagement Specialist Emily Killian said. All had been hospitalized with COVID-19 and were considered high risk. One death is related to a congregate care setting. The deaths bring the county total to 78.
Catawba County's total case count rose to 5,924 on Tuesday. There have been 612 new cases reported in the past seven days.
There are 45 county residents hospitalized with the virus.
North Carolina saw a new highest daily increase on Tuesday, setting the record again at 3,288 new cases reported by the N.C. Department of Health and Human Services. The new cases put the state total at 317,495 cases since the pandemic began.
There are 1,501 people hospitalized with the virus and 4,852 people have died.
Get local news delivered to your inbox!
Subscribe to our Daily Headlines newsletter.