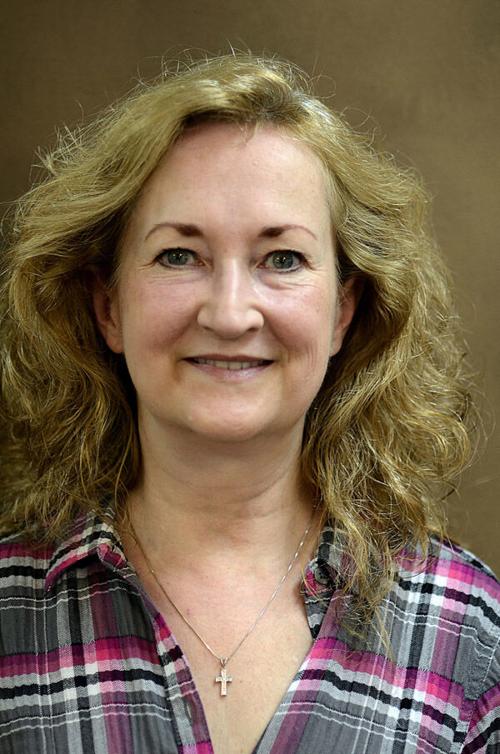 To get you this story, I spent the afternoon in a biker bar . . . and thoroughly enjoyed it. My hosts were Mike Dyson, owner of The Wizard Saloon in Hickory, and his daughter Angel Dyson who tends bar.
Our conversation centered around the upcoming Conover School Toy Run. Dec. 5 will be the run's 30th year. Because of COVID-19, it might look a little different from toy runs in years past, but it's going to happen nonetheless because there's little more important to Mike than making sure toys and funds find their way to a school full of kids who truly need and deserve all the joy and help they can get.
According to its website, Conover School, located at 108 7th St. Place SW in Conover and administered by Newton-Conover City Schools, "is a public separate school for students with disabilities," serving approximately 100 students ages 3 to 22 from Catawba County's three school systems.
"Motorcycle people love to raise money for other people," said Mike, "people who've fallen on hard times." Often the money is raised by way of poker runs. With The Wizard Saloon as the base of operations, countless fundraisers have taken place over the years for individuals and organizations.
From the beginning of The Wizard Saloon's existence, however, there's been an annual toy run. It didn't start out as supporting Conover School, though. Mike explained that the first year, he and fellow biker/friend Iverson Riddle, who owned the Foothills Harley-Davidson dealership in Hickory at the time, "got together and raised all the toys and took them [in a van] to [Catawba County] Social Services." They backed the van into the space they'd been instructed to enter and saw "thousands and thousands of toys," said Mike, so many toys that those not needed for county kids were going to be shipped overseas to less fortunate children.
"We saw they had plenty," Mike continued. "We wanted to do something for those at home who had a real need."
So, the next year, Mike and Iverson decided to organize a toy run for Western Carolina Center (now the J. Iverson Riddle Developmental Center) in Morganton. Iverson's father, Dr. J. Iverson Riddle, was the director of the school. Mike and Iverson put the word out to bikers for everyone to buy toys, strap them to their bikes, and ride together to the school. Around 100 motorcycles roared onto the center's grounds and then circled the building as children and adults moved outside to watch and wave at the bikers. "Then we'd stop and take the toys inside," said Mike.
After a couple more years of running toys to Morganton, "it still wasn't what we wanted to accomplish," said Mike. "The kids were already getting so much from the state. It was appreciated but not really needed."
Mike and Iverson began searching for another venue, another cause. They liked the toy run idea. "It's always been about the kids," said Mike, who talked to Carolyn Lefevers (now deceased), who had a nephew at Conover School. Mike and Iverson visited the school. Details were worked out with Iverson buying all the toys for the first toy run, items carefully selected based on information shared by teachers and the school's principal concerning each child's need. About 60 riders paid $15 each to participate. They didn't carry toys on their bikes as in years past. They just rode together parade style from The Wizard to the school where the kids could see them. All the registration money went to the school as did the toys.
A few years went by, the toy run became more organized — more of a big event, and riders arrived at Conover School, hopped off their bikes and entered the gym to watch a Christmas performance. "At one time, we had 141 children," Mike recalled. "Every child in that school had a part in the play." Still doing the play, said Mike.
Now, the school supplies a detailed list with each student's characteristics and challenges and three gift ideas — things the child wants and are appropriate for him or her. "We buy all the toys," said Mike, explaining that members of the Toy Run Committee shop on Black Friday, and then, according to Angel, the women — "only the women," she emphasized, wrap the gifts.
"Then everybody comes into the saloon and signs up to help out." Each biker donates $20, gets a T-shirt, mingles, and then heads out at 12:15 p.m. riding two by two. "Parade form," Mike clarified. "For as long as you can see are headlights and taillights. One time we had 600 motorcycles that showed up."
Mike said people along Old Hwy. 70 know the day and time the riders will be passing. They go outside and watch and wave. Riders throw candy to them. Among the lot is Santa Claus and a friend — sometimes Frosty the Snowman — in a sleigh that rider Charlie Clark (now deceased) and Wicked Willy Choppers in Taylorsville built. The sleigh is pulled by a big shiny trike crafted by Wicked Willy Choppers. Arnold Kerley owns the trike and drives it in the parade.
The event got too big for Conover School — not enough room to park so many motorcycles -- so the kids and bikers began enjoying the toy run festivities in Newton-Conover High School's gym. "When we get there," said Mike, "the Conover School kids are in the gym." All the riders go in and watch the kids' play. Then the principal talks and Mike talks, thanking all the riders for their donations. Finally, the riders and kids socialize on the gym floor — lots of hugging and talking and even dancing as music plays.
With tears in his eyes and a catch in his throat, Mike said, "You can't imagine the joy when we are intermingling."
I asked Mike how much is raised each year. "A lot," he answered. "The 25th year we were able to give $25,000 cash." Mike's hoping to raise $30,000 this year, but he's worried the virus will deter participation. "We'll still get toys and money to them, but the activities will be greatly modified," Mike explained.
The toy run isn't the only way Mike and fellow bikers support Conover School. They hold fundraisers, such as chili cookoffs, corn hole contests, and raffles throughout the year that benefit the school. They've even had cars donated to them, which they sell and then donate the money to Conover School. And, they've inspired others. Mike said a company heard about the toy run and donated laptops to Conover School's students.
In appreciation for years of support, Conover School dedicated its new gym to Mike, who's so devoted to helping the school that he declared, "If something happens to me, [Angel] will take over." To that, Angel nodded in complete agreement.
If you'd like contribute to Conover School, contact Mike Dyson at 828-612-1018 or Angel Dyson at 828-310-0751 or donate directly to Conover School for the toy run. Learn more about the toy run on The Wizard Saloon's Facebook page.
Get local news delivered to your inbox!
Subscribe to our Daily Headlines newsletter.