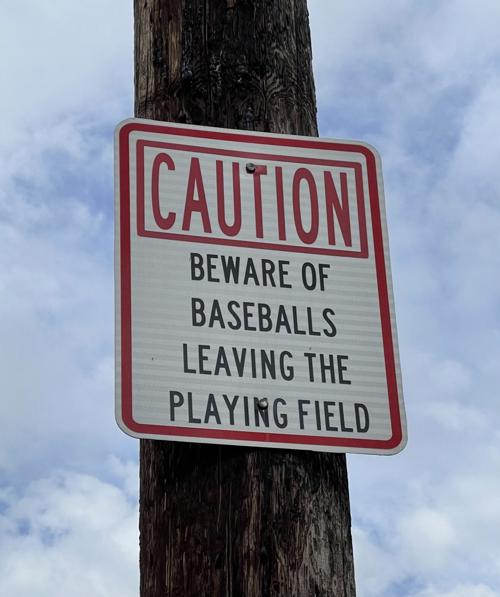 It's time for my annual bloopers column. If you recall these articles from years past, you know there's little that gets me laughing as quickly as reading something that's worded in an odd way, has grammatical errors, or simply tells a comical story.
As always, I am repeatedly entertained by descriptions written by realtors, folks who are whizzes at helping people buy and sell properties but whose wording occasionally conjures amusing images. Not long ago, I read this description of an available house: "The insulation of the walls of the home, I was told, are made of brick. This insulation greatly helps with the fact that it sits on Hwy 16."
I've driven N.C. 16 more times than I can count, and I've yet to see a house sitting on the road, including one with brick insulation.
I read a lot of recipes and their accompanying reviews, some of which leave me wondering whom to believe. Here are two examples from recipes.com.
Reviewer one: "This is a wonderful recipe. I made it for Thanksgiving. It's worth the extra effort for a special occasion."
Reviewer two: "Really did not care for this recipe at all. It just didn't work."
Next recipe — reviewer one: "The recipe looked so pretty in the magazine yet came out colorless even though I used rainbow carrots. The flavor was very bland even though I used a tone of herbs. The pork came out very dry, too."
Reviewer two: "This was really good."
Not sure what a "tone of herbs" is, but maybe that's what ruined the first reviewer's recipe.
On my news feed one day was this headline from Architectural Digest, or AD: "Outdoor Dinging Décor That's Sure to Bring Joy to Any Table." Well, I don't know about joy but it'll definitely make for alfresco dining reminiscent of an episode of "The Price Is Right."
I don't recall where I saw it, but there was a sign that read, "Attention Employees Please Shut up and Work." Must have been a Southern sign. Only we true born-and-raised-in-the-South people say "please" even when we're telling somebody to put a sock in it.
Returning to the topic of recipes, I read this one not because I wanted to make fudge, but because it began with such fun alliteration: "To properly freeze fresh fudge …" Try saying that 10 times. The recipe ended with, "When you are ready [to] eat fudge, remove it from the freezer, keeping it in the plastic bag." Hmmmm. The taste of plastic is going to ruin that delicious frozen fresh fudge. There were additional "helpful fudge facts," but I moved on.
Here's a "Newsweek" headline that will have you scratching your head: "'Extinct fossil fish' dating back 420 million years found alive by fishermen in Madagascar." A live 420 million-year-old fish. Found by fishermen. And we're supposed to believe them?
When in Watauga County, I often pick up a copy of The Mountain Times, a really good free weekly newspaper. Several weeks ago, I read this in the upcoming events section: "KNIT WITH ALPACAS." Would that not be the absolute best way to spend a morning? However do they hold the needles, I wonder.
I laughed out loud when I drove by a sign in front of a Catawba County day care advertising the need for a "toddler teacher and floater." I really wish I'd stopped in a few weeks later to have a look at the new hires: one really short one and one hovering over tiny tots sitting at tiny tables.
Another great sign I saw: "CAUTION BEWARE OF BASEBALLS LEAVING THE PLAYING FIELD." They get huffy about being smacked around and just up and hurl themselves right out of the park.
Because businesses are having so much trouble finding workers these days, we patrons are growing used to signs explaining that wait times might be longer than usual. This one not only offers that news but does so with a few extra letters: "BE SEATED WE APOLOGIZE WE ARE SHORT OF STAFFS YOUR PATIENTENCE IS APPRECIATED."
Another commonly expressed warning in restaurants recently is an increase in menu prices. One eatery stated in writing that its lobster prices had gone up because lobster prices had gone up. Makes perfect sense.
I got a chuckle from a BuzzFeed article posted a short time ago about customers asking not-so-smart questions, such as wondering where chicken wings come from. My favorite went like this: "So I was at Walmart earlier. A lady was looking at frozen turkeys, but she couldn't find one big enough. She asked the stock boy, 'Do these turkeys get any bigger?' He replied with a straight face, 'No, ma'am. They're dead.'"
Before I go, I have to include at least one famous church bulletin blooper because they are the best of the best: "Miss Charlene Mason sang 'I Will Not Pass This Way Again,' giving obvious pleasure to the congregation." I have known a couple of Charlene Masons in my life. I bet some of you have, too.
If you run across a good blooper, please send it my way.