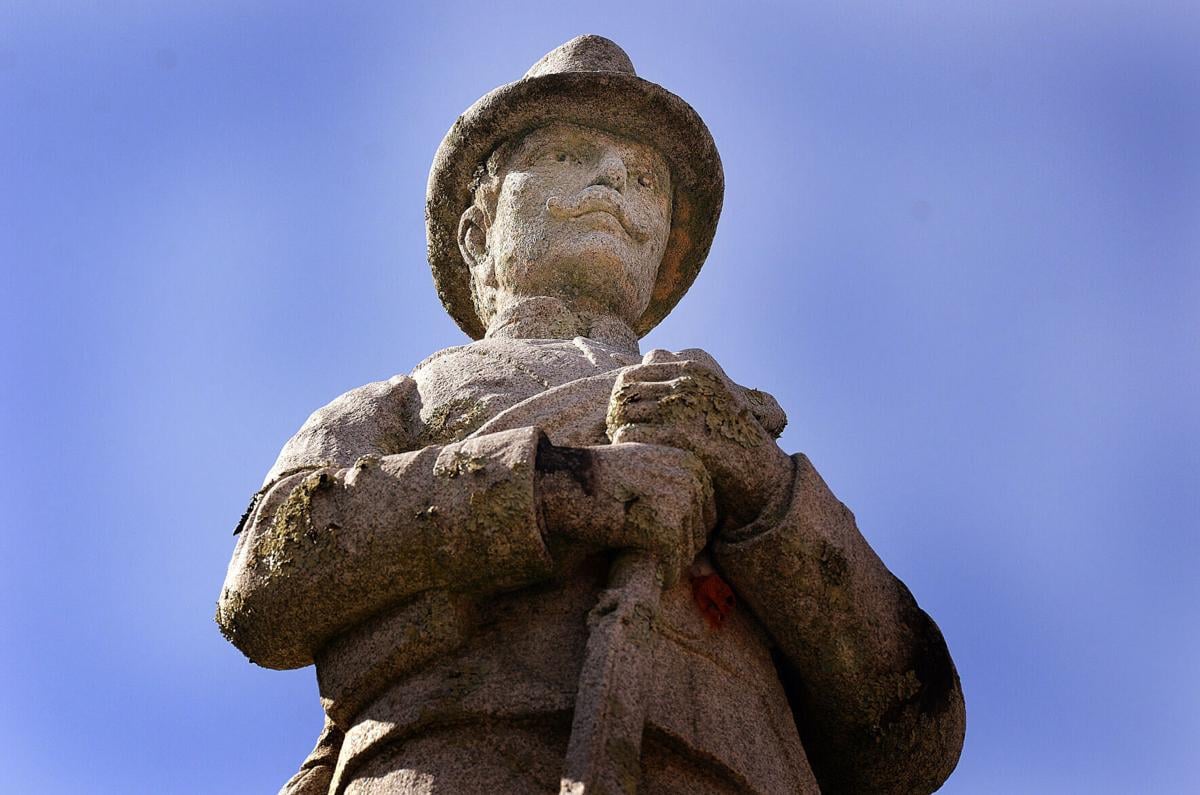 Sixteen-year-old Colby Dagenhart was once a racist.
That's what he told the Catawba County Board of Commissioners Monday night, before asking them to remove the Confederate statue that sits on county land in downtown Newton.
Dagenhart grew up in a small rural town, and didn't see a black child until fifth grade, he said.
He heard racist slurs from family members and believed Hispanic people were illegal immigrants who were taking jobs, Dagenhart said during the public comment portion of the board's regular meeting.
"I believed those large Confederate statues needed to stay right where they were because it showed the power of us whites," he said. "I believed that was our heritage."
Dagenhart moved to Conover and there, about half of his sixth-grade class were minorities, he said.
"It was honestly a culture shock to me," he said.
By eighth grade Dagenhart had made many Black friends, but still didn't support the Black Lives Matter movement, he said.
"I continued to believe that the Confederate monuments were my heritage," Dagenhart said. "Then, I had a discussion about race with them (his friends)."
Dagenhart said their perspective changed his mind. His friends detailed struggles they'd faced from childhood simply because of the color of their skin.
"It put it simply, I never knew. I was educated," Dagenhart said. "I realized I had spent my childhood growing in a world where my skin color never put me at a natural disadvantage. I never had to avoid cops on the street because I didn't have to worry if I would come back home to my mother that day alive. I never had to walk by statues honoring people that I knew fought against my freedom."
Dagenhart said the Confederate monument, which is in front of the historic county courthouse in the center of downtown Newton, represents everything the United States strives not to be.
"This statue needs to be removed," Dagenhart said, addressing the commissioners. "History has its eyes on you. We are Gen Z and we are watching. We are rising faster than you think. Change is coming, and it's going to come with our vote."
After Daggenhart spoke, Chairman Randy Isenhower responded. It was the first time Isenhower has responded to a public comment from the Truth and Reconciliation Committee, the group asking that the monument be removed.
"I'm going to take a break from tradition, and this is not to stifle further comments, this is not a reflection of any of my board members," Isenhower said.
Isenhower implied that for the statue to be removed, the committee would have to find three people to be elected to the board to get the majority vote to remove the statue. Isenhower said three people would have to convince people in Catawba County that they have a better vision than the current board. Isenhower listed accomplishments made during the current board's tenure.
"If those three people can convince the people of Catawba County they can do better, they can also say to the people of Catawba County: We made your lives better because we moved the Confederate monument," Isenhower said.
Isenhower said that people in Catawba County don't want to dwell on the past.
"The reason we accomplish so much in this county is because the citizens, by and large, in this county don't sit around ruminating about wrongs, and how their ancestors were wronged … or what their grievances were," Isenhower said.
After the meeting, Jerry McCombs, head of the Catawba County NAACP and a founder of the Truth and Reconciliation Committee, said he respects what the commissioners have accomplished, but the committee has no plans to stop pushing to have the statue removed.
"We (the community) are in a healing process," McCombs said. "We can't heal unless we stop some of the racism, and the Confederate monument represents that."
Representatives of the committee have spoken at nearly every county board meeting since mid-August.