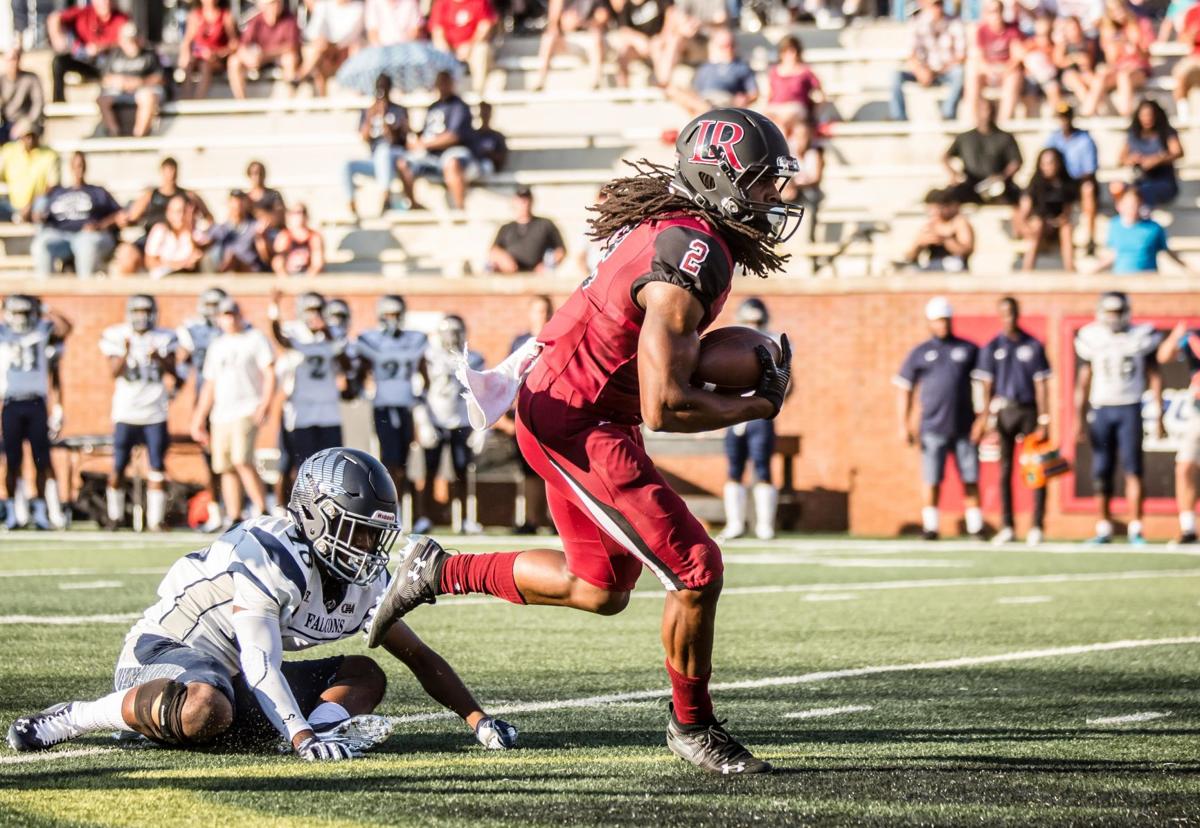 In January, Lenoir-Rhyne safety Kyle Dugger was the only Division II player invited to play in the Reese's Senior Bowl in Mobile, Alabama. Days later, he was also the only DII athlete to work out at the NFL's scouting combine in Indianapolis.
Dugger continued his history-making ways on Friday night, becoming the highest drafted player in L-R and South Atlantic Conference history. The New England Patriots selected the Decatur, Georgia, native in the second round of the NFL draft, making him the 37th overall pick.
"My reaction is hard to explain. But I'd say probably the closest thing would definitely be Christmas, my first Christmas," said Dugger of being drafted by the Patriots during an introductory conference call with Boston reporters. "I did know that they were going to have interest in me. I was talking to them a lot during this process, a lot with (Patriots coaching assistant Brian) Belichick, and so I did know they were interested in me."
"It's huge for me. It's definitely been a journey with a lot of ups and downs," he added. "It was a long time throughout high school and coming into college that I didn't see this day as how it is now. It wasn't in sight like it is now. Just to be able to represent my family and go through adversities and come from them, and to be able play for an organization like this is a huge honor and really an unexplainable feeling. I'm still kind of shocked honestly, but it's really huge for me."
The 6-foot-1, 217-pounder earned the 2019 Cliff Harris Award as the top small-school college defensive player despite playing in just seven games because of a finger injury. He played 42 career games for the Bears, finishing with 10 interceptions and 36 pass breakups.
In addition to 237 tackles, six forced fumbles and six fumble recoveries on the defensive side of the ball, Dugger also completed his career as the best return man in L-R's 100-year history. His 929 punt return yards are the most of any Bears player and his six return TDs also represent a program record.
"Lenoir-Rhyne is a small town, small campus, but the support is very apparent," said Dugger. "Just being from there, to be able to represent them in this situation is huge and the fact that they gave me the opportunity to play football and compete playing the game I love. So it'll definitely be a huge honor to give them recognition and do something that they've never had done before."
Former Tusculum cornerback Ricardo Colclough was previously the highest draft pick in SAC history, going to the Pittsburgh Steelers at No. 38 overall in 2004. Additionally, prior to Friday, no L-R player had been chosen since defensive end John Milem went to the San Francisco 49ers in the fifth round of the 2000 draft.
Dugger is the ninth player in Bears history to be selected in the NFL draft. Harold Bullard was the first in 1958, followed by Dick Lage in 1961, Mike Campbell in 1967, Wayne Bell in 1968, Chip Sheffield in 1977, Craig Keith in 1993, Shannon Myers in 1995, Milem in 2000 and Dugger on Friday.
Dugger will compete for a spot in a New England secondary that includes veteran safeties Devin McCourty and Patrick Chung. He could also contribute immediately on special teams.
"We definitely discussed those things," said Dugger of playing special teams for the Patriots. "I know for a fact that I have a big role in the special teams department as far as punt returns if the opportunity presents itself. If I'll be given the opportunity, I'll take advantage of it and that'll be it. But, as far as special teams as a whole, I definitely know I'm going to have a big role with that. They definitely told me about that."
"My impression of the Patriots is they're a professional, great organization," he added. "They know how to win. They know the little details. They're detail-oriented. They're all bought in and they take it seriously."
Note: Portions of this story were taken from the Lenoir-Rhyne Athletics website and www.boston.com.
Be the first to know
Get local news delivered to your inbox!