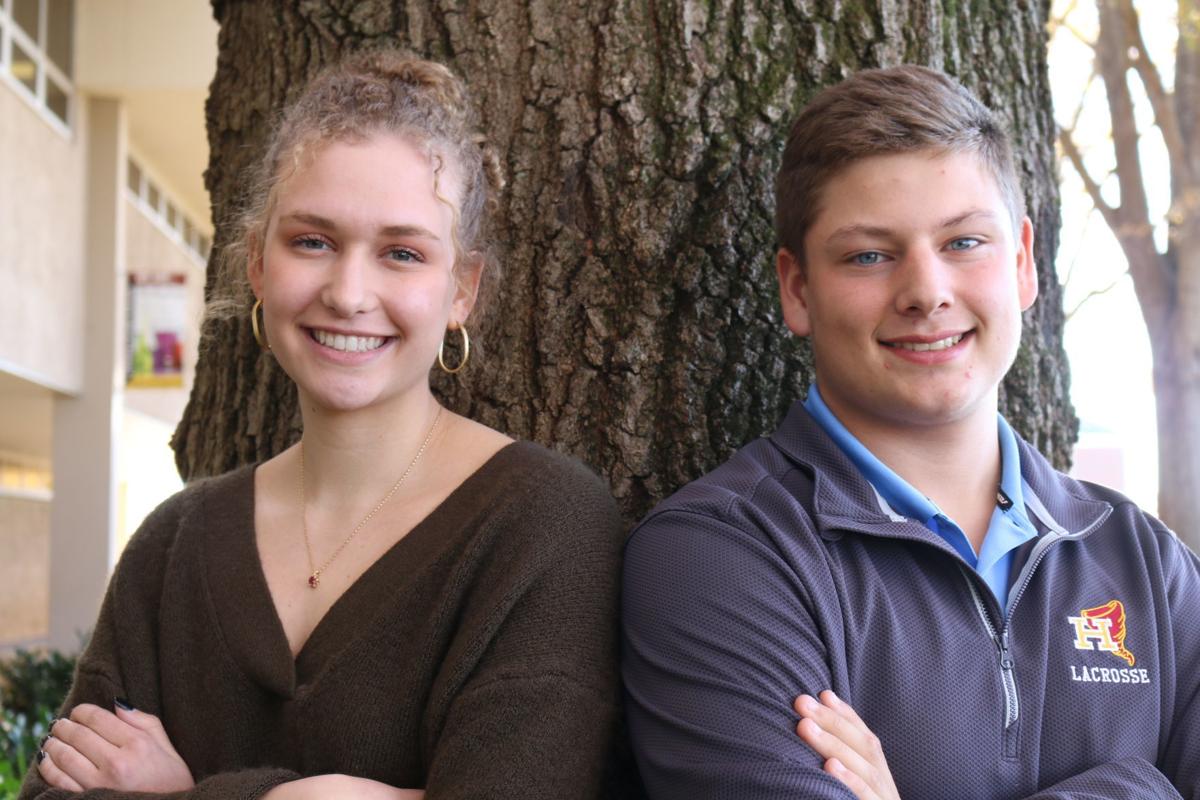 Two student-athletes from Hickory High School will be introduced during the Carolina Panthers home game at the Bank of America Stadium today.
Both seniors, Olivia Pisel and Sebastian Parrish, received the invitation from Ron Rivera, head coach with the Carolina Panthers, to attend the afternoon game, as the Carolina Panthers host the Washington Redskins.
Pisel and Parrish are recipients of the 2019 Carolina Panthers Community Captain Award, based on their outstanding performance, not only as athletes, but also as leaders who excel in the classroom and in the community. As part of the program, a $500 donation will be made in honor of each of the students, with the $1,000 contributed to the athletic department at Hickory High.
As achievers on the field and in the classroom, Pisel and Parrish are both interested in pursuing higher education studies in law — with Parrish interested in sports law and Pisel interest in criminal law. Parrish is considering Wingate University or Lenoir-Rhyne University for his next step in education and Pisel is considering either UNC-Chapel Hill or NC State University.
As athletes at Hickory High, Pisel played on the school's volleyball team for the past four years, coached by Jason Stephens; and Parrish played football, coached by Russell Stone. He also played lacrosse, coached by Doug Knowles. Parrish hopes to play lacrosse on the college level.
Pisel, the daughter of Angela and Gregory Pisel, and the youngest of four children, shares that her greatest high school memories include her many friendships: "I am thankful for the friendships I've made through the years. Playing volleyball has provided me the opportunity to make friends with students from all grade levels. It's great to spend time with underclassmen — teammates whom I would have never met without participating in athletics," she said.
Parrish, the son of Cynthia and Michael Parrish, and the oldest of two children, shares that sports have contributed to his greatest high school memories: "I have really loved playing both football and lacrosse. And I will never forget beating our rival, St. Stephens High, during this year's football season!" he said.
Both Pisel and Parrish feel honored to have been selected by the Carolina Panthers for this recognition. "This is a great honor to be recognized by the Carolina Panthers for my academic and athletic achievements. I am excited to attend the game — and I love the Panthers!" said Parrish.
Pisel agreed. "It's an honorable recognition and I am excited to attend the game. Not only are the Panthers recognizing me for my academic and athletic journey, but they are also giving a total of $1,000 to HHS athletics in honor of both Sebastian and me. This is really incredible!" said Pisel.
Parrish and Pisel will be attending the game with family members, courtesy of the Carolina Panthers. The 2019 Carolina Panthers Community Captain Award program is sponsored in partnership with the Carolina Panthers and Guy Roofing.
Be the first to know
Get local news delivered to your inbox!