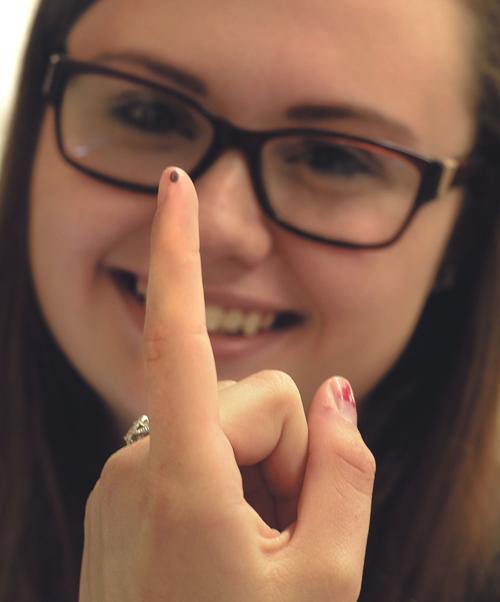 CATAWBA, N.C. — The summer before last, Bandys High School apparel teacher Dee Snyder had an idea.
At a conference for family and consumer science teachers like herself, Snyder heard about high schools where students could graduate with certification in food safety management, allowing them to go straight into full-time jobs in the restaurant industry.
"I realized apparel did not have that security at all," Snyder said.
Why couldn't Catawba County Schools set up a similar partnership with furniture companies, she wondered?
"Dee cornered me and would not let me go until I figured out something," joked Mark Story, the career and technical education director at Catawba County Schools.
So he reached out to local furniture companies to see if they liked the idea. Three of them – United Sewing Machine Sales, McCreary Modern and Sutter Street Manufacturing (a subsidiary of Williams-Sonoma) – responded.
Fast forward a year, and Bandys High School junior Lauren Barnette will be the first student go through the state's first and only commercial sewing apprenticeship.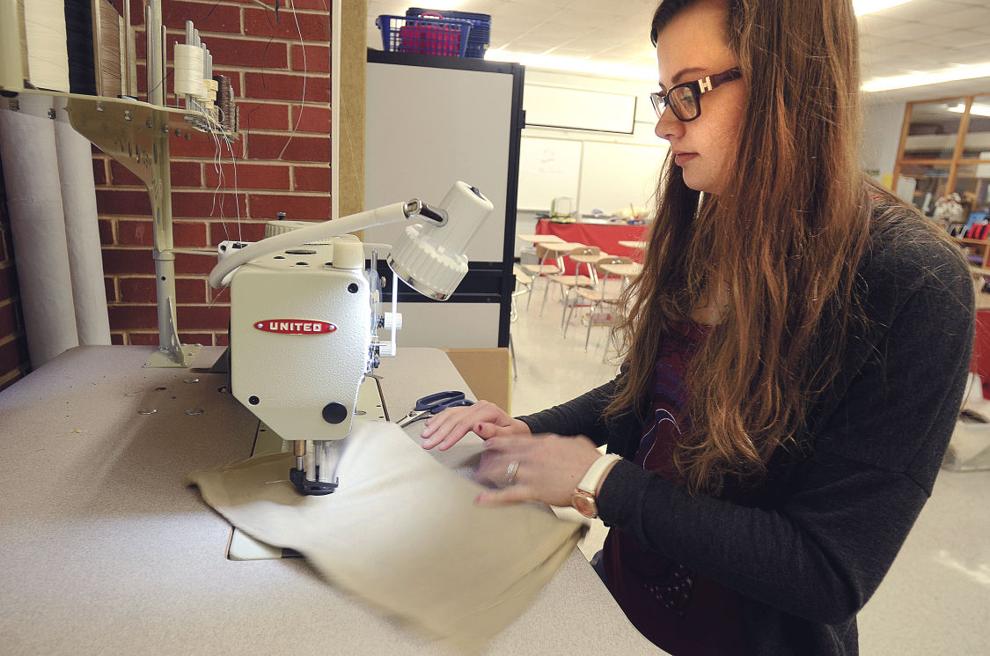 As Barnette deftly works a piece of fabric through the 777-DS, a sewing machine that's taller than she is, she talks about why she signed up to be a sewing apprentice.
"It's a great experience seeing how something starts from raw material to finish," Barnette said. "You start out with funky piece of cut-out fabric and you look all the way down the line and you see a completely built couch."
As an apprentice, Barnette attends school at Bandys in the mornings but works at McCreary Modern in the afternoons. Barnette's only 17, but she's treated like a regular employee. She's being trained in numerous skills, like the overlock stitch or how to sew piping into cushions. Barnette's specialty is flatwork – sewing muslin onto the bottom of sofas and cushions.
Right now, Barnette earns $10 an hour. As she improves, she'll have the opportunity to make more money. By the time Barnette graduates, she'll have a high school diploma, a specialized skill and a standing job offer at McCreary.
"Many of our children, they're paying their insurance, they're helping out with groceries at home, they're helping with car payments," said her teacher, Snyder. "If they've got this skill, that's great. That's money."
Snyder didn't know it at the time, but her idea tapped into a problem that had been plaguing furniture manufacturers since the mid-2000s: A shortage of young people with "middle skills."
Sutter Street founder Eric Fulcher said the skills gap was a "crisis" for furniture companies across the country.
"I would hire 60 sewers today if I could get them," Fulcher said.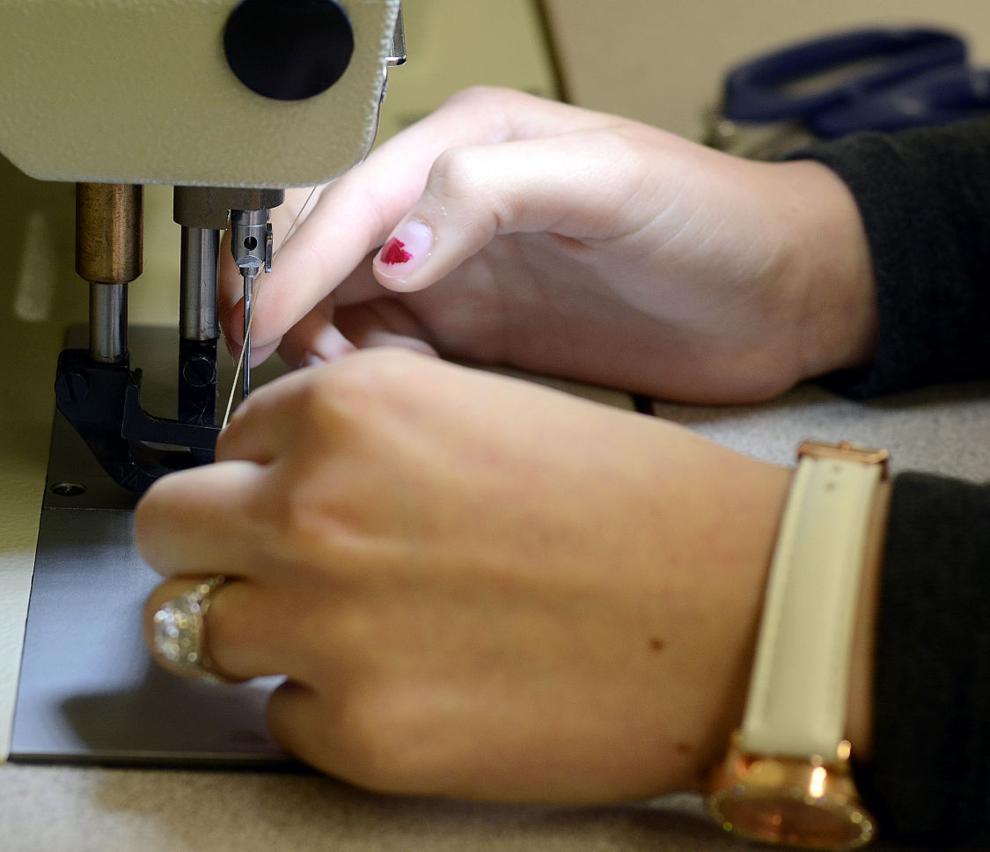 The furniture industry is rebounding from the decline in manufacturing caused by the rise of overseas production, Fulcher said. Innovative new technology and leaner production lines are allowing U.S. furniture companies to make better - quality furniture much faster than foreign companies. At Sutter Street, 40 percent of the pieces they produced last year were custom orders. And that's something mass production manufacturers overseas can't do.
"My fear is that these things are going to stagnate, that the momentum will be lost," Fulcher said.
"What we do in this building is craft," Fulcher added. "It's manufacturing, but it's a skill."
Story said he was frustrated to see an increasing number of college graduates saddled with debt and a useless degree while 1,100 furniture-related jobs remained unfilled in the Unifour area alone.
"I believe you shouldn't measure us by test scores, you should measure us by unemployment rates," Story said.
That's when he began working with Keith Deveraux, an apprenticeship consultant with the Department of Commerce, to create work-based learning programs at CCS in fields like sewing, robotics and welding.
"Catawba County is doing a phenomenal amount of apprenticeships," Deveraux said. "When I talk to other school systems, I reference Catawba County as a model."
Apprenticeships and internships require buy-in from both schools and businesses. Luckily, McCreary Modern and Sutter Street are two of the largest furniture manufacturers in the area, and both offered to train CCS teachers so that they could pass the knowledge onto student apprentices. Meanwhile, United Sewing donated the equipment – top-of-the line industrial sewing machines that cost upward of $8,800 each. The one Snyder and Barnette work on at Bandys is identical to the ones on the sewing room floor at McCreary. The company even built Snyder a mini air compressor so the machine is mobile and isn't too loud.
"We give them fully ergonomic, fully automatic, with all the bells-and-whistles equipment to learn on so that they feel like someone cares enough to give them the latest and greatest," said Buddy Jacomine, an executive at United Sewing.
In exchange, United Sewing only asked Snyder to teach her students to sew while standing up – a new standard in the industry that is supposed to mitigate the back and neck problems that have plagued older furniture workers.
"The leaders of this community need to give back to the new up-and-coming leaders in this community so we can show them how things have to be done in the future," Jacomine said.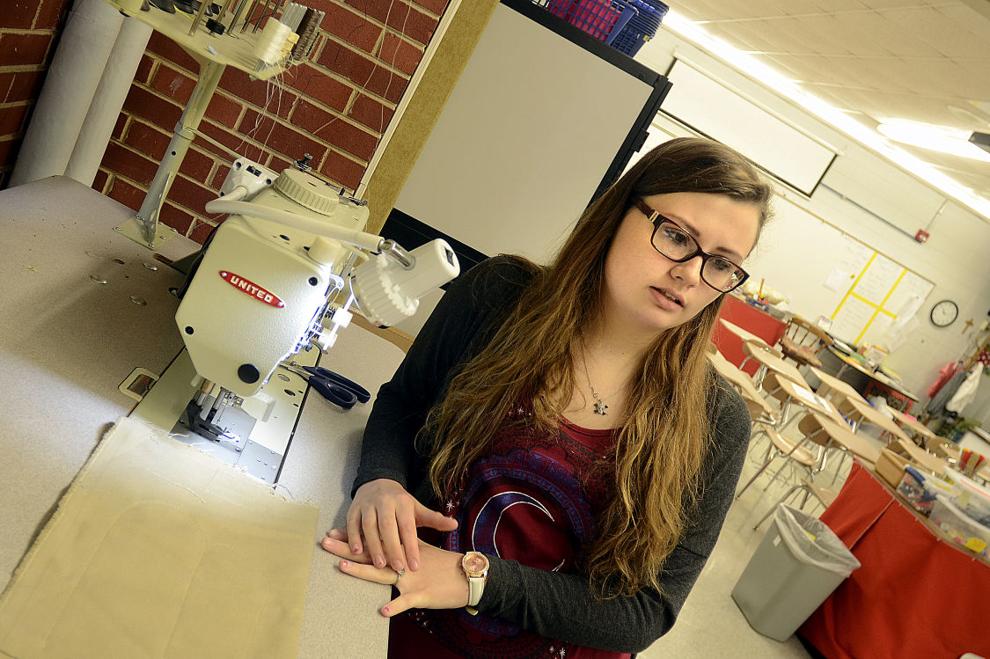 This summer, Barnette will work at McCreary full-time, starting as early as 6 a.m. on some days. But she doesn't mind the early hours, the hard work, or even the occasional blood blister. It beats working in fast food, she said – and the money is awesome.
"It's amazing being able to say I have that much money in my bank account," Barnette said. "I feel like I've gotten a lot more mature in the last few months … Now I'm like, 'Do I really need to spend $5 on that?"
She plans to save enough money to buy a car and go to N . C . State, where she wants to study textile and furniture management.
"My thought is, having this job will help me get into State, and having that degree will help me get the job I want after college," Barnette said.
The sewing apprenticeship program is fully active at Bandys, where Barnette and one other student have signed up. United Sewing has also installed sewing machines at Bunker Hill High School, Maiden High School and Catawba Rosenwald Education Center.
Next year, Story hopes to expand the program to every high school in the system.
"All we've talked about for years is college-ready and college-bound," Story said. "It's important to let these students now there's high - wage, highly-skilled jobs out there without a four-year degree."
McCreary Modern, Sutter Street and United Sewing have told Story to go full steam ahead. It's an investment they're willing to make, according to Jacomine.
"We're not counting pennies," he said. "We're counting students."