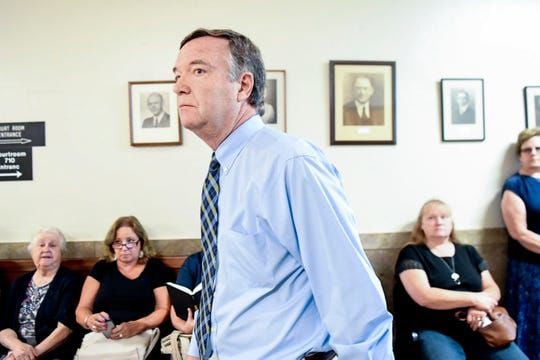 Prominent Catawba County lawyer Daniel Ray Green, 64, was in court in Buncombe County this week, but he wasn't representing a client.
After being indicted July 8, Green faces formal charges of felony statutory sexual offense with a child 15-years-old or younger, felony disseminating obscene material to a minor under 16, misdemeanor giving spirituous liquor to a person under 21 and misdemeanor contributing to the to the delinquency of a juvenile.
In the brief appearance Aug. 5, Green's attorney, Lisa A. Dubs, of Hickory, requested a continuance in the case. A new court date was set for Nov. 4.
Dubs declined to comment at this time.
Asheville police arrested Green on March 31 at Baymont Inn on Hendersonville Road, where he reportedly engaged in a felony sex act with a 14-year-old, according to an APD spokeswoman and police reports. Warrants also state Green watched pornography with the child, who was "known to the suspect prior to the incident," according to APD spokeswoman Christina Hallingse at the time. Green was released the same day on a $75,000 secured bond and ordered to have no contact with the juvenile.
Green, who now operates a private practice in Hickory, served as a N.C. Superior Court judge for seven months in 2002, according to his website. He sat as a District Court judge, overseeing the 25th Judicial District — Catawba, Burke and Caldwell counties — from 1984-86.
Be the first to know
Get local news delivered to your inbox!