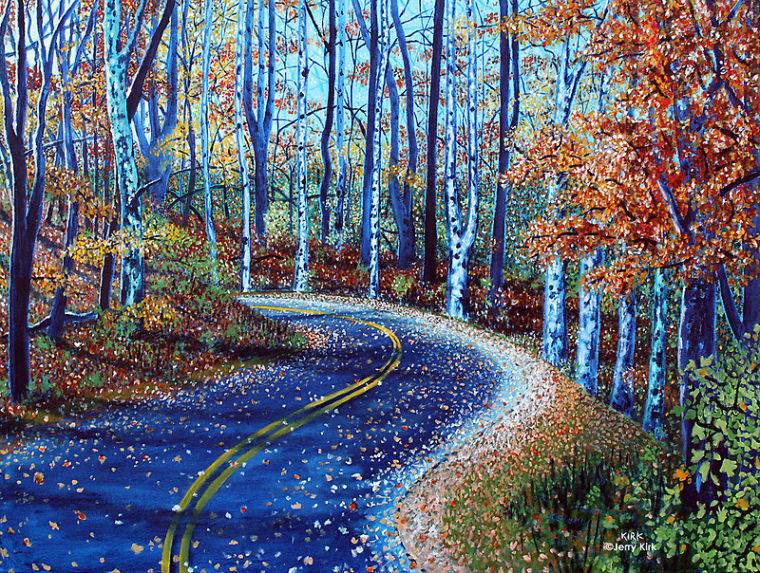 HIDDENITE, N.C. — Beginning Aug. 1, The Hiddenite Center's Lucas Mansion Gallery will feature the work of Charlotte artist Jerry Kirk.
The exhibit will be on display during August and September. Renowned for his use of vibrant color and expressionist style, Kirk's exhibit portrays North Carolina landscapes in a bold new way. From the mountains to the coast, Kirk has captured the beauty of North Carolina while creating energy, evoking mood, and stirring emotion on the canvas.
In addition to his exhibit at The Hiddenite Center's Lucas Mansion Gallery, Kirk's work has been exhibited in numerous East Coast galleries, including Ward-Nasse Gallery in New York City, Waterworks Gallery in Salisbury, R.J. Reynolds Gallery in Winston-Salem, Center of the Earth in Charlotte and The Contemporary Art Museum in Raleigh. Kirk is one of the founders of Charlotte's NoDa district (Charlotte's historic North Davidson Street art district).
Kirk's exhibit at The Hiddenite Center is focused strictly on landscapes.
Hiddenite Center director of education Allison Houchins believes that Kirk's exhibit of North Carolina landscapes will resonate with visitors and allow them to see the state with fresh eyes.
"Our new exhibit, 'A North Carolina Homecoming by Jerry Kirk,' is aptly named because his vibrant use of color, unique style, and bold paint strokes allow the viewer to see landscapes in an entirely new way," said Houchins. "The viewer is immediately drawn into the landscape, which allows their personal experience to merge with that of the artist."
The public is invited to attend a meet-the-artist reception in honor of Kirk on Sunday, Aug. 18, at The Hiddenite Center's Lucas Mansion Gallery, 316 Hiddenite Church Road, from 3 to 4:30 p.m.
Light refreshments will be served and the artist will be available to discuss his work.
The Hiddenite Center's Lucas Mansion Gallery is open Tuesday through Friday from 10 a.m. until 4:30 p.m. and on Saturday from 10 a.m. to 3 p.m. All Lucas Mansion Gallery exhibits are free and open to the public.