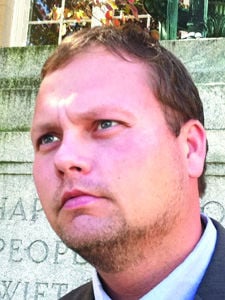 MARION, NC — The former operations manager of Foothills Regional Airport who pleaded guilty to embezzlement in September 2012 is being held in the McDowell County Jail.
The federal government revoked the bond of Brad Adkins after he had a bond revocation hearing Feb. 7. It's unclear why his bond was revoked because the summons for an order on bond violation report for Adkins is sealed.
Richelle Bailey, a spokeswoman for the McDowell County Sheriff's Office, confirmed Adkins, 38, is in the county jail.
Adkins has a sentencing hearing set for 11 a.m. Feb. 25 at the federal courthouse in Asheville. Adkins pleaded guilty to conspiracy and embezzlement and faces a maximum sentence of 15 years.
Alex Nelson, former airport manager, is scheduled to have a sentencing hearing in Asheville on the same day as Adkins. He pleaded guilty in September 2012 to conspiracy, embezzling and money laundering and faces a maximum sentence of 35 years.
No sentencing date has been set for Randy Hullette, former chairman of the board of Foothills Regional Airport, who pleaded guilty to embezzlement and witness tampering Aug. 21. He faces a total maximum sentence of 30 years. No presentence investigation report on Hullette has been filed yet, which is required before sentencing.
The FBI raided the airport in June 2012, seizing files, records, computers, log books and other information. The warrant included records from the airport involving Nelson, Adkins and Hullette defrauding the airport of at least $100,000.
The warrant also called for seizing any files, records or information related to Hullette Aviation, Burkemont Service Center, RANMAC Inc., Jeffrey Rose, Grady Rose Tree Service, Jimmy "Ron" Gilbert, Gilbert Grading and Construction, Simon Roofing and Parton Lumber.