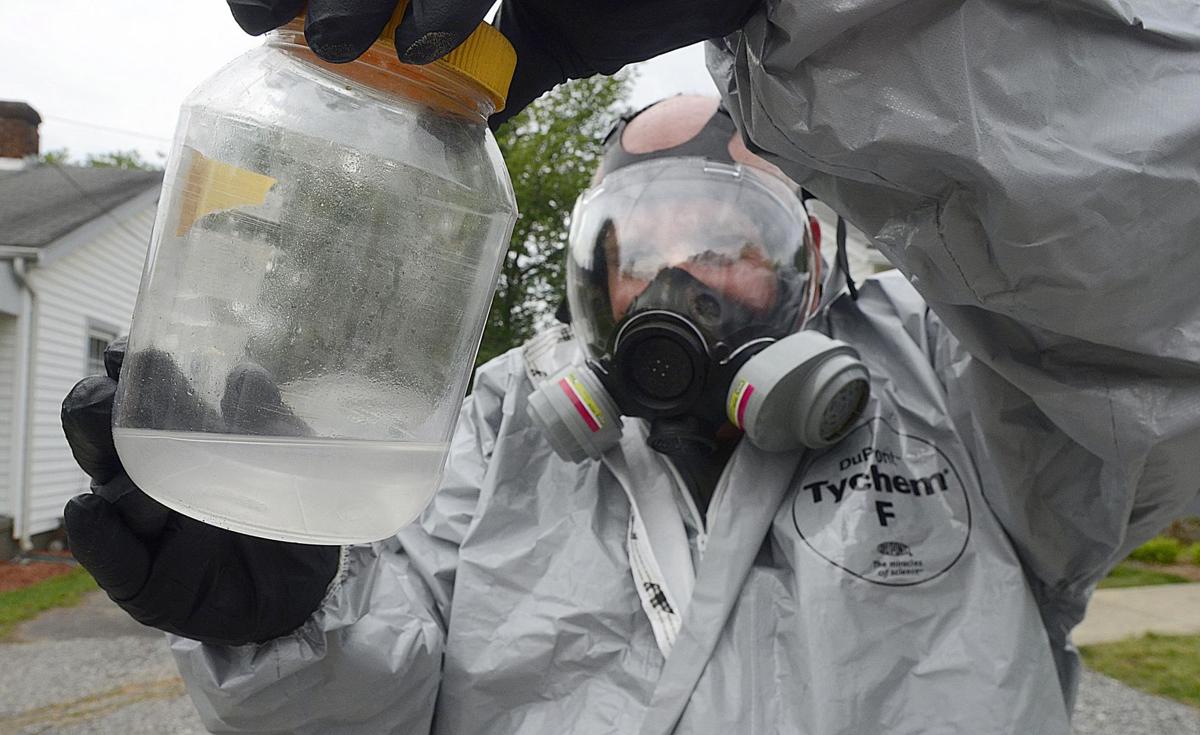 Editor's Note: For information on how the Hickory Daily Record's analysis was conducted and compiled, read the final section of this report.
HICKORY – In 2015, 1,488,707 drug abuse violations were reported in the United States, according to a Federal Bureau of Investigation report.
Catawba County had a total of 1,142 drug abuse violations as of June 30, according to information compiled from Catawba County law enforcement agencies.
Of the 1,142 violations in 2017, the Catawba County Sheriff's Office reports the largest portion with 504 drug abuse incidents, followed by Hickory Police Department at 343, Conover Police Department at 136, Newton Police Department at 113, and Longview Police Department at 46.
The Catawba County drug abuse violation rate equaled 1,473 incidents per 100,000 residents, which is more than three times higher than the national average of 463 incidents per 100,000 residents.
In addition to the incidents reported, there's an additional 285 ongoing drug investigations within the Catawba County Sheriff's Office, Capt. Jason Reid said.
"There's two ways to attack (the drug problem in Catawba County), you've got the people who are distributing it, and the people who are using it," Reid said. "You have to help the people who are addicted to it, and we have a program here for them.
"You have to help those people, but you have to enforce the people who are distributing it."
Hickory Police Department Chief Thurman Whisnant said Hickory has experienced a decline in recent years with street corner and car-stop drug dealing.
"We saw a lot of that years back when crack cocaine was more popular, but we don't see that as much anymore; things have changed," Whisnant said.
Both Whisnant and Reid discussed the national opioid epidemic that has hit North Carolina and Catawba County.
"(Opioids) are probably one of the most highly addictive drugs I've seen in my time in law enforcement. It's like nothing we've ever seen (in terms of addiction)," Whisnant said. "We're not going to arrest our way out of this problem.
"The folks that are trafficking and supplying it, we have to really work hard to put them out of business."
Reid believes the only drug distributors will feel the heat is by increasing their sentencing – especially on individuals who distribute opioids and narcotics.
Reid also discussed the recently released 2016 Castlight Health report that placed Hickory fifth in the nation in prescription opioid abuse.
"I don't care about (the study), because what I try to tell our drug investigators is 'yeah, that's terrible for us to be number five in the nation, but we need to have the mentality that we're number one,'" Reid said. "There's nothing to brag about; everyone is on the list somewhere."
Newton Police Department's drug abuse violations have risen from 64 at the end of June 2016 to 113 in June 2017, a rise of 77 percent.
Hickory Police Department drug abuse violations have dropped 23 percent, from 440 incidents through June 2016 to 343 incidents through June 2017.
"It's not that there's less drugs. I believe that the way drugs are being sold is done differently, and it's done more behind the scenes," Whisnant said.  "It makes our undercover operations all the more important."
Reid spoke about the sheriff's office tip line which provides a call center for citizens to report drug or crime tips.
"In six months, beginning in May 2015, our drug investigations went up 954 percent from our tip line, going out into the community to educate citizens, and doing other programs about drug abuse," Reid said. "Can we credit that to going out and doing these drug awareness classes and creating a tip line? I don't know, but I know we can't not credit it."
Whisnant also discussed the L.E.A.D. project, an acronym for Law Enforcement Against Drugs, a Hickory Police Department initiative.
"L.E.A.D. gives us a place and case manager to say to a person, 'we've got this charge here, if you're willing to sign and go into treatment, we'll do the report and hold evidence, and if you back out, your case goes to the top of the stack," Whisnant said. "If we can prevent having to arrest someone five times, that's the approach."
Violent Crime
In 2015, 1,197,704 violent incidents were reported in the United States.
Of those violent incidents, 63.8 percent were considered aggravated assault, followed by 27.3 percent robbery, 7.5 percent rape, and murder comprising the final 1.3 percent, according to the FBI report.
In 2017, Catawba County has had a total of 263 violent incidents reported within the county as of June 30.
The area department with the highest amount of violent incidents reported was Hickory Police Department with 94, followed by the Catawba County Sheriff's Office with 76. Longview followed with 49, with Newton totaled 25 and Conover added 19.
"Proactive law enforcement is so important," Reid said. "I don't mean writing speeding tickets; I mean searching to stop a crime before it happens."
Whisnant agreed and said HPD focuses on staying ahead of potential trends and causes that may indicate the likelihood of violent crime.
Of the 263 violent incidents in Catawba County, five murder incidents were included, three with the Catawba County Sheriff's Office and two with HPD. The highest amount of violent crimes consistently across departments was aggravated assaults, comprising 57 of the sheriff's office's total 76 violent crimes.
Eighty-six percent of homicides the office has dealt with since 2013 have been drug related.
In 2016, all five homicide incidents HPD investigated were domestic related, Whisnant said.
"It's a small sample, but one death is one death too many," he added.
Aggravated assault has risen in HPD from 38 incidents through June 2016 to 60 incidents through June 2017.
Using this information, the Catawba County violent crime rate amounted to 339.22 violent crimes per 100,000 residents, lower than the national violent crime rate at 372.6 per 100,000 residents.
Whisnant discussed another initiative the county has introduced called the Catawba County Safe Communities Initiative, sparked by beginnings of gang activity rising up several years ago.
"We look for offenders who have shown patterns where they could be considered violent, but they're not to the point where an intervention isn't possible," Whisnant said. "Twice a year, we work with our federal partners and community leaders to bring a group of 12-15 people to say, 'you are putting our community at risk.'"
The initiative also includes attendance from local employers, educators and leaders who show up to offer help and services to those willing to alter their path.
"We give them an ultimatum," Whisnant said. "Either change and get help, or your case goes to the top of the stack."
Whisnant indicated the initiative was targeted specifically to combat violent crime, and the gang issues many were concerned about at the time haven't materialized in large part due to the program.
Property crime
In 2015, 7,993,631 property incidents were reported in the United States.
Of those property incidents, larceny comprised 71.3 percent, with burglary at 19.7 percent and motor vehicle theft at 8.9 percent.
In 2017, Catawba County has had a total of 2,312 property incidents reported as of June 30.
The area department with the highest amount of property incidents reported was HPD with 983, followed by the Catawba County Sheriff's Office with 787, Conover Police Department with 241, Newton Police Department with 206 and Longview Police Department with 95.
In many incidents, Reid and Whinsant both think a line can be drawn between property crime and drug violations.
"The two (property crime and drug violations) go hand in hand," Reid said. "Sheriff (Coy) Reid is famous for using the phrase '90 to 95 percent of all crimes are directly or indirectly related to drugs,' and he's right."
Whisnant said most of time drug addicts resort to property crimes as a means to feed their addiction, especially if they are underemployed or unemployed.
Of the property incidents reported, larceny aligned with the national rates to be the most common by a wide margin, comprising as many as 746 of HPD's total of 983 property crimes so far this year.
Using the information submitted, the Catawba County property crime rate averaged out to 2,982 per 100,000 residents, higher than the national average of 2,487 per 100,000 residents.
Whisnant also spoke about the high number of retail stores in the area, which creates more shoplifting opportunities.
"We started seeing a lot of the same people pop up (in larceny reports) and folks know now that there's a habitual larceny charge that makes it a felony," Whisnant said. "So anytime someone crosses that threshold, we're looking to pursue that with the district attorney's office."
Reid mentioned the creative ways the sheriff's office has involved School Resource Officers in the summer while school is out, including two officers who caught individuals breaking into a home in the Sherrills Ford area.
"Our SRO's have conducted license checks and intercepted individuals who were transporting methamphetamine and weapons," Reid said. "We are getting more positive phone calls about what our SRO's are doing than any other division."
Whisnant said HPD encourages residents to lock their cars and monitor their valuables.
He also referenced a recent report from HPD's Community Services PACT team finding 79 percent of motor vehicle larcenies happened as a result of unlocked cars.
Engaging the public
Both Reid and Whisnant spoke about numerous community projects surrounding law enforcement agencies stress to connect and educate citizens on recognizing and reporting crime.
Reid spoke about the value of the tip line, and how little information is needed from reporting citizens to jumpstart an investigation.
"With the tip line, we don't need this long story of how you know this person, what he's doing, what he's selling," Reid said. "All we need is a name, an address or a tag number, and if you call our tip line and give us one of those three things, we'll take over the rest.
"You can block your phone number, not give us your name, and that's a guarantee that we're not going to know who you are."
Reid credits the sheriff's office's upswing in drug arrests, "not necessarily to our investigators, but to the community. It's as if they've finally said, 'I'm done, I've had enough.'"
Whisnant stressed the importance of having a relationship with the community, "where they're comfortable calling the police."
"We've got to keep finding ways to make people feel comfortable about calling us and reporting incidents," he said.
Whisnant also spoke about the department's refocused efforts to beef up the Hickory Police Department staff, as police staff recruitment and retention has become a national issue in recent years. At one point, the department was down as many as 14 officers.
In the last three months, the department has hired 12 officers, with the goal being a fully-staffed 116 HPD officers.
"We're looking for folks who we can hire, train, keep, and invest in. Five years down the road will be a real measuring stick of how we've done," Whisnant said. "Policing is a people business, crime prevention is a people business, and we still solve crimes because people give us information."
HDR's analysis
The latest United States Census Bureau information from 2015 lists Catawba County as having a sleeping population of 155,056. Hickory, the largest city within Catawba County, has a population of 40,408.
The "sleeping" population does not necessarily reflect the day-to-day population of those traveling into the county and city for various reasons.
Eight law enforcement departments reside within the county and include the Catawba County Sheriff's Office, Hickory Police Department, Newton Police Department, Conover Police Department, Maiden Police Department, Catawba Police Department, Claremont Police Department and Longview Police Department, which straddles Catawba and Burke counties.
The Hickory Daily Record's crime analysis contains information compiled from each law enforcement department in the county, with the exception of Maiden, Claremont and Catawba police departments; Longview Police Department's information pertains exclusively to Catawba County.
The analysis tackles four areas including violent crimes (murder, rape, robbery and aggravated assault), property crimes (burglary, larceny and motor vehicle theft), and drug abuse violations (possession, intent to manufacture, sell or deliver, and maintaining a dwelling, vehicle or place for marijuana or a controlled substance).
To help tackle crime in Catawba County, community outreach projects by the Catawba County Sheriff's Office and Hickory Police Department represent a proactive approach for the Hickory-area.
The statistics in the analysis reference offenses and incidents reported, and are not necessarily arrests.
In addition, the incidents themselves do not necessarily reflect total victims. For example, Hickory Police Department has dealt with two homicide cases this year with a total of four victims.
Additionally, the hierarchy rule applies in the incidents listed, meaning the highest charge in an incident will be listed, i.e. an incident regarding a homicide and drug violation will only reflect the homicide only.
The report does include national statistics from the Federal Bureau of Investigation's Criminal Justice Information Service Division's 2015 report titled, "Crime in the United States" using statistics from the Uniform Crime Reporting service.
The rates of both Catawba County and national statistics listed are based on a scale per 100,000 residents, in an effort to compare the numbers. Per 100,000 rates in the county were scaled to reflect a year-long projection, as all statistics submitted by area law enforcement for the report were through June 2017.
In addition, notable year to date changes are included on an individual departmental basis, as not all departments provided this information.