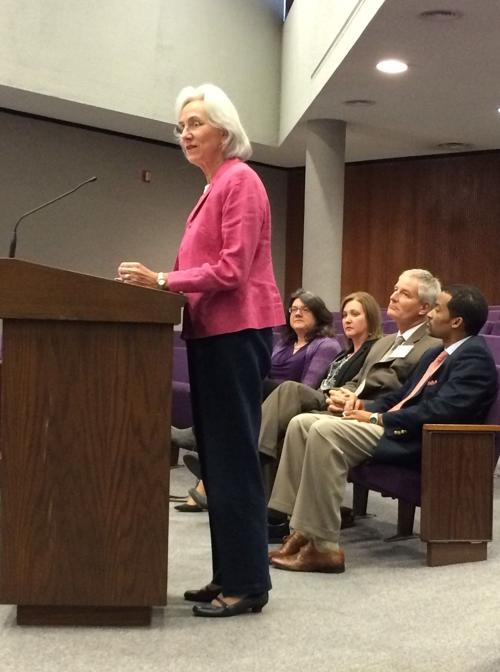 HICKORY -- The results are in and they're good, according to the AdvanceED accreditation team that spent all of Tuesday visiting the Hickory Public School system. They presented their results at a special called school board meeting Wednesday afternoon.
After meeting 154 people, including school administrators, teachers, parents and students, the AdvanceED team recommended another five years of accreditation for Hickory Public Schools.
"This is the best organized accreditation effort I've seen," AdvanceED lead evaluator Dr. Agnes Smith said during the team's presentation.
The team used the Effective Learning Environment Observation Tool (eleot) to assess the school system. They graded what they saw in the classroom in a 20 minute period on a four-point scale in seven different areas (domains) observed. Based on her experience, Smith said a score in the 2.5-range is good. Hickory scored 2.5 or higher in all but one of the seven domains.
The highest score for the schools system was a 3.17 in the Well-Managed Learning Environment area, the lowest, a 1.59 in Digital Learning Environment.
"I think the scores just affirm what I've known for about six months, since I've been in Hickory is that we have a hard working group of teachers and administrators and a supportive community that cares about the kids of Hickory," Hickory Public Schools Superintendent Dr. Robbie Adell said after the presentation.
Assistant superintendent Dr. Denise Patterson spearheaded the job of getting the system ready for the AdvanceED team visit and echoed Adell's point on the effort the entire community made to ensure another accreditation. Patterson sees the process as another tool to be used to help the school district continue to improve.
"I don't know if all (districts) have to do it. I know some districts, they may select certain schools to do it," Patterson said. "It's certainly a trend to really see how well you're progressing with student achievement.
"It really charts our success to the next level. We think it's going to provide another data point to continue to drive our student success, our teacher development and certainly our leadership development."
The scores the AdvanceED team observed in the seven domains included: Equitable Learning Environment , 2.75 – the avg. 2.69; High Expectations Environment, 2.60 – avg. 2.81; Supportive Learning Environment, 2.91 – avg. 3.07; Active Learning Environment, 2.84 – avg. 2.94; Progress Monitoring and Feedback Environment, 2.50 – avg. 2.79; Well-Managed Learning Environment, 3.17 – avg. 3.14 and Digital Learning Environment, 1.59 – avg. 1.83.
Hickory Public Schools' overall Index of Education Quality score was 268.32. The IEQ score is generated by combining the ratings of the performance indicators within each AdvancED Standard, the ELEOT observations, the evaluative criteria from the Student Performance Diagnostic, and results from the Stakeholder Feedback Diagnostic (surveys of students, parents, and staff/teachers), according to the AdvanceED website.
The Teaching and Learning and Impact score was 271.43. The Leadership Capacity score was 278.33, and the Resource Utilization score was 247.50. Smith said scores were usually in the mid-200 range, and it was rare to see a score near 300.
"Those are good scores. Take it from me, those good, solid scores," Smith said. "Now are you through? No. Does this give you direction? Absolutely, for the future. The areas where you want to do more, you've already identified themselves for us and we've just affirmed that indeed you're going in the right direction."
Adell noted one of those areas to focus on is teacher retention. Another recommendation was focusing on clearly defining grading criteria for all grades and courses. Smith added that the Digital Learning Environment score was one that most school systems she visits look to improve.
School Board Chairperson Reginald Hamilton said he was confident about what the AdvanceED team would find during their review of Hickory schools.
"I've been in Hickory about 24 years and I've been on the board for ten years and that's the reason (schools) I'm still here. That's the reason I came here," Hamilton said. "Me and my wife were transitioning from the military to the civilian world, so we were looking for a place to raise our kids and Hickory rated in the top five…there are good people, good board, strongest board I've ever seen."
The AdvanceED team was made up of Dr. Agnes Smith, Dr. Chena Cayton, Dr. Terrence McAllister, Matthew Gruebmeyer and Jennifer Grief.