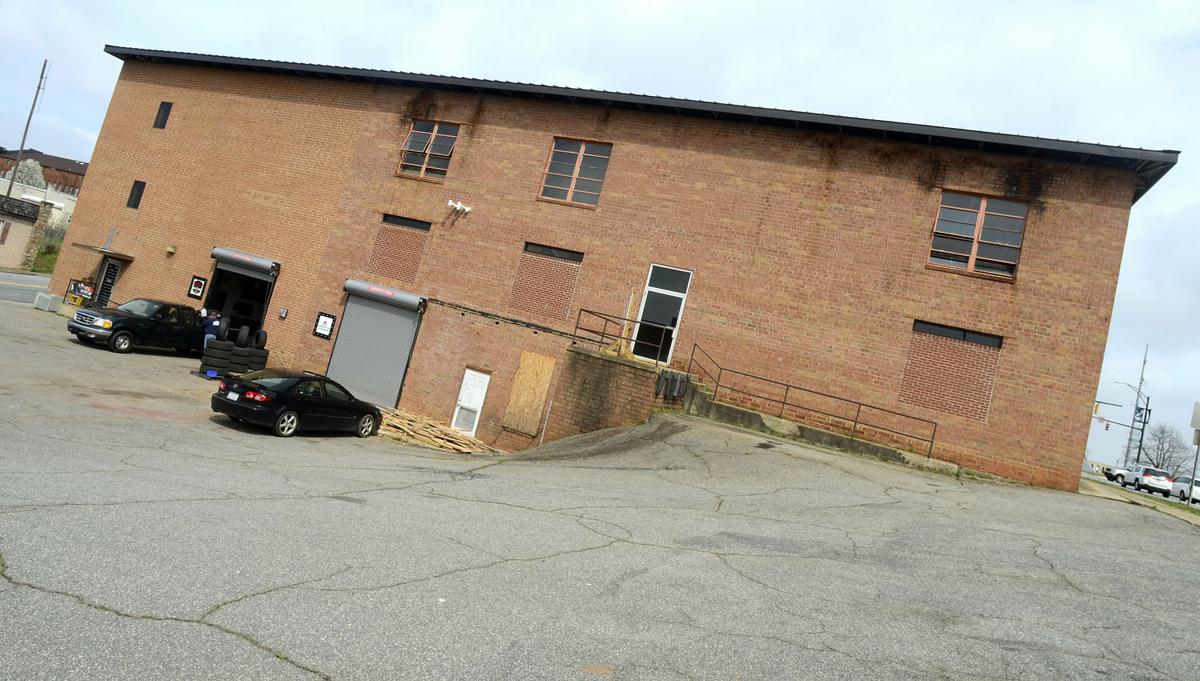 CONOVER, N.C. – The sign read "City Block for Sale" and it stood outside 108 S. Center St. for about two years. It took that long to find someone willing to take a risk on the old brick cube.
It was a sturdy structure and it looked fine – from the outside. The roof was a different story. It was a wreck replete with water damaged rotting timbers.
Alex Harrill, a general contractor specializing in custom homes, spotted vast potential where others saw a gaping money pit.
On Jan. 1, 2014, he and his partners paid $105,000 for "The Block," according to Catawba County records. Then Harrill got to work clearing out the building, ripping out the rotting lumber and transforming the building that the Hunt family business, Auto Suppliers, had constructed as a warehouse in 1950. The result is the steel-clad hip roof that has enhanced a little corner of Hickory's southern skyline.
But that roof wasn't cheap. It cost more than the price of the building and the .82 acres it sits on.
"This building was just terrible looking and we wanted to change the look of it," Harrill said. "It was really neat to be able to save a building like this. It's such a solid building it just needed a new roof."
Harrill's vision for the block is of a building dedicated to mixed use development. Xtreme Machines, owned by Harrill's business partner John Eller, is on the ground floor. Harrill's offices, a salon, retail space and additional office space will be on the main floor. And the most unconventional idea, for Hickory, is Harrill's plan to tranform The Block's upper level into 1,000 square-foot loft-style apartments and a private parking garage.
"I hope that, by the end of 2016, we can be complete here," Harrill said.
He intends the lofts to appeal to the kind of young professional that Transportation Insight is recruiting and the recently-passed bond issue aims to keep in Hickory.
"It certainly is a risk, but it's a calculated risk that we feel is going to pay off," Harrill said. "This city needs projects like this."
The seven lofts will have high ceilings, exposed brick and joists. They'll also be bathed in the natural light flooding in through the 6-foot high by 4-foot wide windows. The units on the east side will overlook a vacant lot that Harrill, Eller and the community organization Friends of Hickory hope will become a city park. The western windows have a view of the western peaks.
"On a clear day you can see all the way to Black Mountain," Harrill said.
As for the old Western Union building on The Block's west side Harrill and Eller plan to refurbish it and lease it out. It's long and lean at about 900-square feet. Eller says it would make a good salon or maybe a sandwich shop.
Xtreme Machines dominates The Block's ground floor. Eller bought the business from Paramount Motors in 2002. They'd started in Valdese in 1998. It wasn't long before he moved his operation to Hickory across from Mike Johnson's Toyota on U.S. 70.
At its height, Eller employed 14. In 2008 business dipped dramatically. In recent years it's been coming back.
"We don't sell anything here that you actually need – this place is like a toy store," Eller said. "And some guys will do anything to get the toys they want."
These days he sees a lot of people who are hanging on to their vehicles for 10 or 15 years. They'll bring it to him for the kinds of custom touches that bring a new sparkle to their ride without having to shell out for a brand new set of payments.
"It's all nuts and bolts to me," Eller said. "I like taking this and making that and that's all there is to it."
It's all about making your souped-up dirt slinger all it can be. Last week Eller was working on a tricked-out 2006 Jeep Wrangler that was on its way to Moab, Utah for the annual Easter Jeep Safari. It's outfitted with Kevlar-lined tires and an onboard air compressor that lets you inflate or deflate depending on the terrain. It has an LED light bar mounted above a winch and cable beside a CB radio.
Making the standard extraordinary is what Eller is all about.
For now Harrill Construction's office is on the ground floor alongside Xtreme Machines, but its permanent home will be one level up on the main floor.
Harrill has been in the construction business for about a decade. And, unlike a lot of general contractors across the nation, he was able to keep business viable during the Great Recession.
"I kept things pretty lean in 2008," Harrill said. "We actually stayed pretty steady through that whole time."
Today he's building homes in Abernathy Park, Brookstone and Winding Creek. His crew builds as far away as Charlotte and Davidson.
"We've got about 10 projects going on right now," he said. "It's about 50 percent custom and about 50 percent spec."
Although his company specializes in custom homes, Harrill has extensive experience in renovations – a skill set that's coming in handy as he refurbishes "The Block."
Be the first to know
Get local news delivered to your inbox!