If you've followed my cooking over the years, you know that I love risotto. I've published more than a few recipes for this comforting rice dish and to date, this one is probably my favorite.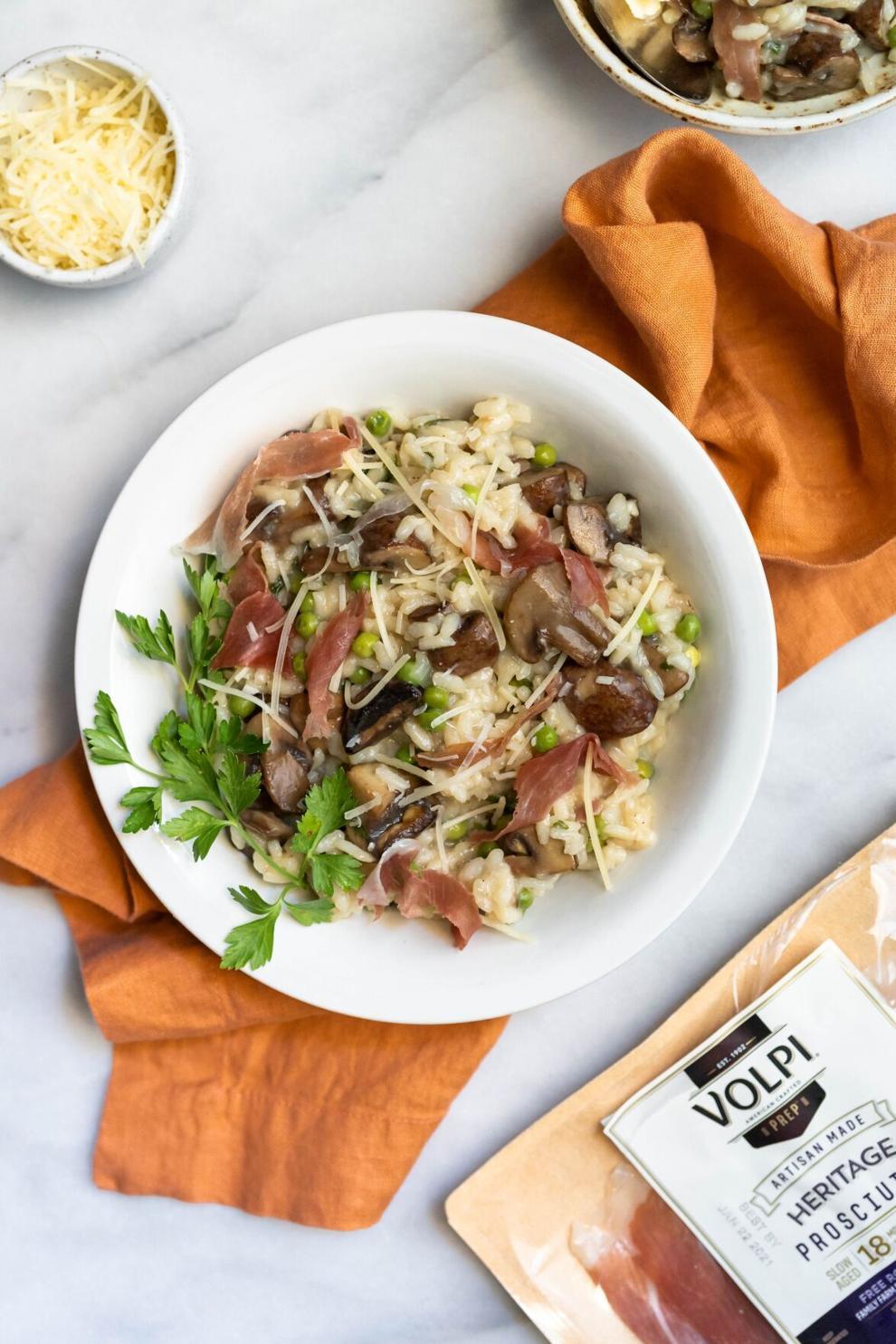 Risotto is easy to make – it does require some focused attention for about 20 minutes, but you'll be rewarded with outstanding flavor, and I have a few tips to share that will ensure tender, toothsome success.
First, wine is a star ingredient in risotto. I've seen recipes that omit the wine, and you certainly can if you wish, but the flavor that wine – in this case Prosecco – lends to the dish is key. Always use a wine that you enjoy by the glass because the flavor of the wine will only deepen and concentrate during cooking. I love using dry (meaning not sweet) Prosecco or other sparkling wines because the yeasty quality is lovely with the rice. If you want to use a still white like Chardonnay or Chablis, that will work as well, but don't use a wine that is tart because that sourness will only intensify.
Second, the mushrooms in this recipe are sautéed before starting the rice – this is because the mushrooms are stirred in at the end of cooking along with the prosciutto, so they have to be cooked and ready to go. This is true for any item you'd like to add to risotto that shouldn't be added raw to the hot rice – if you are making risotto with sausage, for example, you should brown the sausage and hold it until the rice is five minutes or so from being al dente and then stir it in, so the flavor can permeate the dish as the rice finishes its simmer.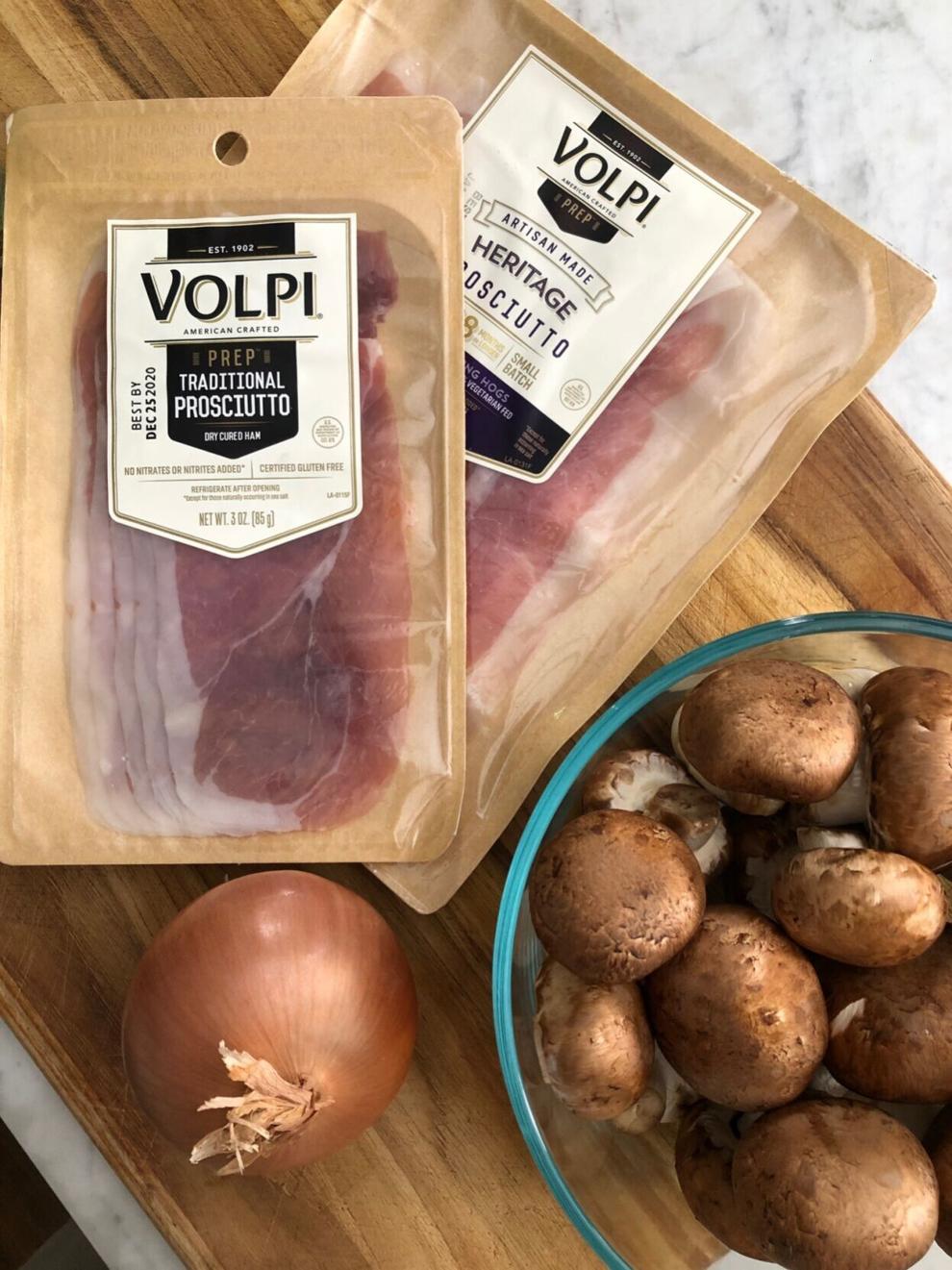 Last, the reason you stir risotto so much is that you are encouraging the broth and wine to evaporate and therefore concentrate as the rice simultaneously absorbs the liquid – this heightens the flavor (and is one reason you want to use a wine that you enjoy!) and encourages the starchy exterior of arborio or carnaroli rice to slough off and create that creamy texture that's specific to risotto. You won't get that silky texture with long-grain, jasmine, basmati or any other kind of rice. Arborio rice is readily available at grocery stores, so you'll have no trouble finding it.
My final bit of guidance when making risotto is to save a bit of hot broth to add at the very end – the rice will continue to absorb the liquid, so right when you stir in the cheese and season with salt and pepper, ladle in enough additional broth to give the risotto a somewhat loose, but not soupy, texture.
Once you have the technique for making risotto nailed, you'll probably find yourself making it a regular in your recipe rotation. Like pasta, you can use whatever ingredients you have on hand – I like sauteed carrots, sausage and arugula or asparagus, shredded chicken and peas or even cherry tomato, shrimp and sweet peppers. And, of course, be sure to serve your piping hot bowl of risotto alongside a glass of the Prosecco you used in the dish. Cheers!
Emmy-winning host Cat Neville is the publisher of Feast Magazine and the producer of tasteMAKERS, which airs nationally on PBS. She has been in food media for about 20 years and when she's not on the road, she can usually be found playing around with new flavors in her St. Louis kitchen.
Prosciutto and Prosecco Risotto
Recipe by Catherine Neville
2 cups mixed mushrooms, chopped – button, cremini, shiitake, etc.
olive oil
salt and freshly ground black pepper
4 to 6 cups chicken or veggie stock or broth
1 bottle dry Prosecco
½ large yellow onion, small dice
2 cups arborio or carnaroli rice
1 4-oz package Volpi prosciutto, chopped
¾ cup peas (thawed if frozen)
½ cup chopped parsley
2 Tbsp chopped fresh basil
1 cup grated Parmigiano-Reggiano, divided
| Preparation | In a small skillet, sauté mushrooms in olive oil until tender and beginning to brown. Season with salt and pepper and set aside. Meanwhile, heat stock or broth until boiling and then reduce heat. Add a cup of Prosecco to stock. Keep at a gentle simmer.
Heat 5 to 6 tablespoons olive oil in a large frying pan (one with deep sides, not a skillet with sloping sides) and add diced onion. Sauté until onion is translucent and then add rice, stirring to coat rice with oil. Deglaze pan with a cup or so of Prosecco and stir, allowing the wine to simmer and reduce. Add ½ a cup of warm broth at a time to the rice, stirring to encourage absorption into the grains, and waiting to add the next addition of broth until most of the previous addition has been absorbed. Continue until the rice is just barely al dente (taste a grain and see if the texture is still kind of hard and starchy or if it's starting to get "toothsome").
Once rice is just about cooked through, add mushrooms and prosciutto, stirring to combine. Add in another ½ cup broth or more, if necessary, to loosen the texture. (You might need to add more broth and wine to the simmering broth pot as necessary to ensure you have enough.) When the rice is cooked through, gently stir in the peas, parsley and basil, adding more broth to keep the somewhat-loose consistency. Stir in a good ½ cup of Parmigiano-Reggiano and taste, adding salt and pepper as necessary along with more broth if you'd like. Serve risotto topped with more cheese and a few grinds of black pepper.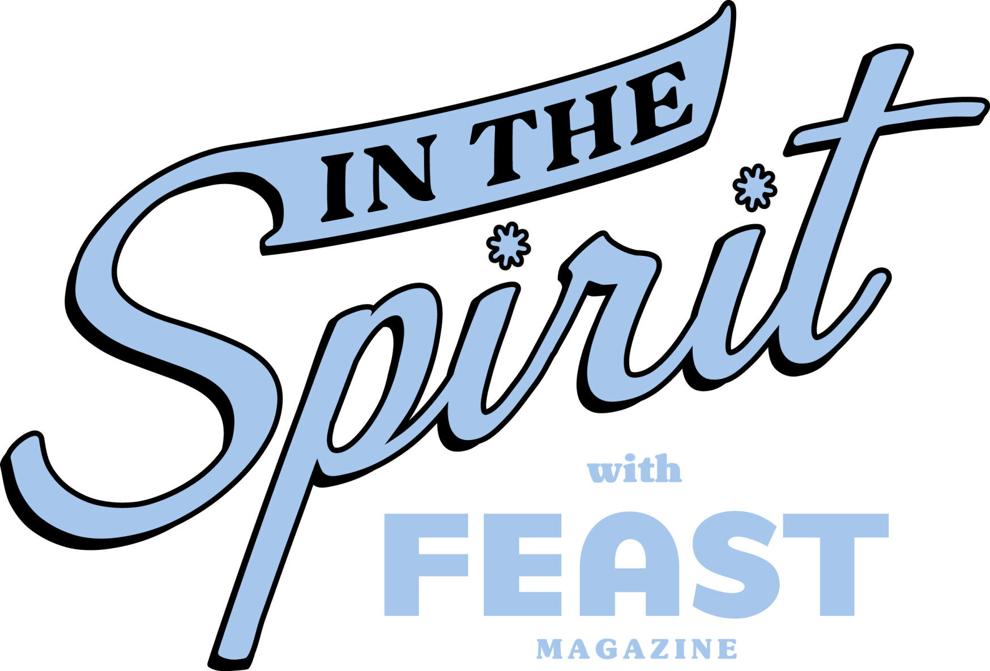 This content was produced by Brand Ave. Studios. The news and editorial departments had no role in its creation or display. For more information about Brand Ave. Studios, contact tgriffin@brandavestudios.com.