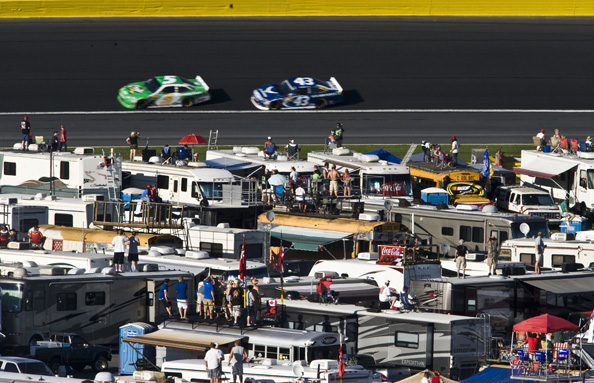 CONCORD, N.C. –There was one thing everybody in the room could agree on: It's hard to determine the value of Charlotte Motor Speedway.
After three hours of questions and discussion Wednesday, the Cabarrus Board of Equalization and Review unanimously approved a tax value for Charlotte Motor Speedway for 2008 at $244.1 million and for 2009 at $309.6 million.
Board members and county officials said the door is still open to negotiations before the matter likely reaches the N.C. Property Tax Commission on appeal.
Raleigh attorney Bruce Thompson II and Charlotte commercial appraiser Fitzhugh Stout of Integra Realty Resources represented the speedway and said the value should be $78.2 million for 2008 and $108.2 million for 2009 (after the ZMax Dragway was built).
Stout's appraisal placed the value of the total land (more than 1300 acres) at $41 million and the replacement cost of improvements at $137.2 million, but subtracted $100 million for the value of having a Sprint Cup race date.
Thompson said the N.C. Property Tax Commission ruled in a case involving N.C. Motor Speedway (Rockingham) that having a Sprint Cup race could not be considered when establishing the tax value because it was a business intangible and not subject to ad valorem taxes.
Cabarrus Tax Administrator Brent Weisner said the county, the county's appraiser and Stout all used a cost approach to arrive at values, except Stout shifted to an income approach to take value away for the race date.
"You can't back out the race value in the cost approach. You have to back it out of an income approach," Weisner said. The income approach couldn't be used because Charlotte Motor Speedway and Speedway Motorsports Inc. would not provide revenue information to either the county or Stout, Weisner said.
Stout said he established the Sprint Cup race value by looking at Rockingham, which was purchased by Burton Smith and others for about $100 million and later was sold at auction for $4 million after the Sprint Cup dates were moved to other tracks. He also used information from the New Hampshire, Kentucky and Atlanta tracks.
"Without the race date why would you build it? You would never build it," said Stout, who also said tracks lose money without the TV revenues from Sprint Cup races.
Stout and Thompson said the same would apply to the old Charlotte Coliseum, which was torn down after the Charlotte Hornets left for New Orleans and sold for much less than it cost to build.
"You would never build a new Bank of America Stadium without a football team," Thompson said.
Cabarrus County real property manager Chris Ferris said the county used cost figures provided by the speedway to determine improvement values.
"Our appraisal didn't use any intangibles. We would have to know income and we weren't provided with any income figures," Ferris said.
"I don't agree with the race date ruling and don't know that the board is bound by that precedence," said Mary Stewart, chairperson of the Cabarrus board.
Board member Audie Dover said he believes Charlotte Motor Speedway should be treated like any other Cabarrus business, such as a McDonald's which is worth more if it is being used as a McDonald's.
"We evaluate every business in Cabarrus County as an on-going business until it changes," said Dover.
If the unlikely event happened that NASCAR took away Sprint Cup racing or the speedway was moved, then the property would be considered differently, Dover said.
Cabarrus County commissioned an appraisal by Michael P. Berkowitz of T.B. Harris Jr. & Associates for the 945-acre parcel that includes the racetrack. His value came in at $277 million.
Berkowitz said he also considered sales information for the Kentucky Speedway and Rockingham, but he said he didn't consider the Rockingham auction as an arms length deal and not really comparable to Charlotte Motor Speedway.
A 30-acre site adjacent to Speedway property off of Bruton Smith Boulevard was considered when establishing the land value, Berkowitz said. That property, now being developed for a Hendrick automotive mall, sold for $230,000 per acre.
Overall the county placed a value of $58,000 to $60,000 per acre for the speedway land values, but used the lower ends of the commercial and industrial value ranges, Weisner said.
Dover and board member Keith Troutman both urged county officials and the speedway to continue discussions to reach a value that everyone could agree on.
Stout and Thompson both said the county should have considered its values based on the property as one parcel, rather than 20 individual parcels.
Weisner said state law requires each parcel to be appraised separately.
Stout said if racing left the site, the property would be likely redeveloped as a mixed use development and take many years to develop.
In 2008, the property would be competing with the Philip Morris land up Concord Parkway and the failed Epic development nearby, Stout said. Altogether that would be more than 4,000 acres.
There would likely be a long holding period with little demand for commercial land. Developers would not be willing to pay a very high price for the land, Stout said.
Both sides said they believe that the matter is likely to be appealed to the N.C. Property Tax Commission.
Typically it takes one to two years to be heard before the commission, but since it is such an old case and the commission has already heard about it, it is likely to be fast tracked, Weisner said.