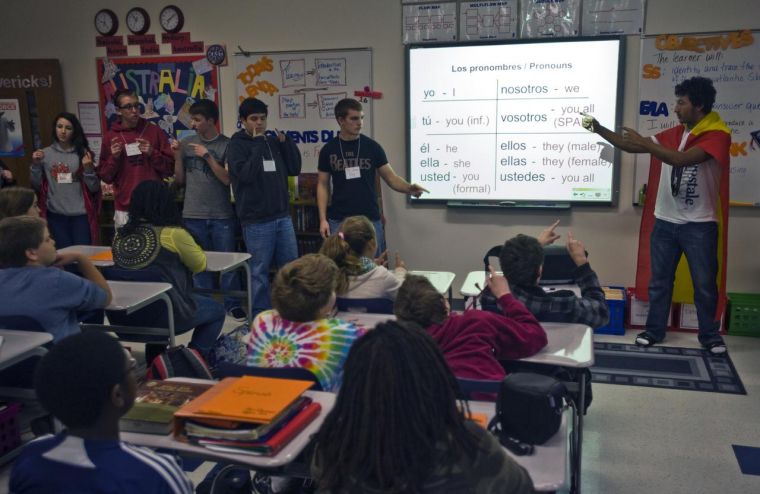 In the hours after dismissal at Hickory Ridge High School, about 10-20 youth transition from students to teachers.
Every Tuesday, the students plan and practice a lesson they select with Spanish teacher at the high school, Jennifer Lohner, and then travel to Hickory Ridge Middle School to teach about 20-30 students Spanish.
The program is something Lohner and Freda Sherman, a social studies teacher at the middle school, had talked about for several years.
Once the high school had a neighboring middle school to partner with this year, the idea came to fruition, Lohner said.
The high school students are all enrolled in Spanish classes, and the middle schoolers are members of the International Cultures Club who receive the lessons for free.
This week, eight high school students reviewed the Spanish pronouns, adjectives and games they would use to teach the middle school students.
As Lohner first reviewed the parts of the lesson with them, the high school students offered suggestions on how they could teach it.
Once they made the decisions about the lesson, the students did a run through. Lohner sat at her desk watching, encouraging them and offering suggestions.
"I think the three best things are that the kids get to practice their Spanish, it helps develop their leadership skills and, for those interested in education, it gives them the opportunity to expose themselves to the field," Lohner said.
Senior Spencer Ott, who participates in the program, said he is interested in becoming a Spanish teacher.
"I saw this as a good opportunity to gain some experience," Ott said.
He said it has been interesting to see and hear the middle school students first learn and speak Spanish. Ott and his peers agreed the program is a chance to get back to the basics.
"It shows how far we've come," said senior Conner Toth.
Toth and several others in the program are students in Spanish III. When Lohner surveyed students at the high school to join this program, she made it open it to students who were in Spanish II or higher, so they had a foundation in the language.
At the middle school, parents and students were also surveyed to see if there was interest.
"A lot of kids responded," Lohner said. "Parents were the most happy (because their) kids are receiving free classes."
While the younger students do not receive credit and are not tested on the content, it allows them to get an early start on learning Spanish, since there is no official middle school foreign language program, she said.
"The neat thing was to see there was so much response so quickly," Lohner said. "(That) leads me to believe there is a desire for Spanish instruction at the middle school."
Sherman agreed. She had seen this need and interest among middle school students in foreign language and also saw the program as an opportunity for the schools to partner.
Lohner pointed out how all parties benefit in some way from the program.
"(The middle school students) are getting free language instruction, and it's a partnership between the two schools," Lohner said. "This is a really good opportunity for (the high schoolers) to reach out and be good leaders. They need an opportunity to be leaders because it helps them be better learners."
Some of the high school students in the program use the opportunity as a way to earn volunteer hours, but many do it because they enjoy it.
"I really liked Spanish class and thought it would be nice to teach middle school students," Toth said. "It's a learning experience for us. We get to practice our Spanish usage while also helping someone else. It's helping both groups."
He and most of the other students said they plan on selecting Spanish as a minor when they attend college, so they can use it in their future careers.
In addition to seeing how the program has helped their own Spanish speaking skills, some students said they have noticed improvements in their leadership and public speaking abilities.
"I was nervous, but now, it's second nature," said senior Shannon Drugan. "I feel so comfortable now. I've become more of a leader."
The older youth in the program said they know this opportunity will help middle school students be prepared for high school and taking a foreign language.
"They'll be taking it in high school, so it helps our teachers (when they are prepared)," said senior Kaley Tate.
Sherman said she has noticed that the middle school students have shown more of an interest in Spanish now, because of the program.
"They're enjoying the fact that they can communicate with Spanish speakers at the school," Sherman said. "Their attention is transferring into the regular classroom. They're more attentive and ask more questions abut places that speak Spanish. They're also asking me what certain words mean in Spanish."
She added that the high school students teaching the middle school students has been very effective for several reasons.
"It sounds different coming from a high schooler than an adult," Sherman said. "They know the high schoolers are in the same position they're in (as students). They can see the practicality of what high schoolers have to offer them."
• Contact reporter Jessica Groover: 704-789-9152