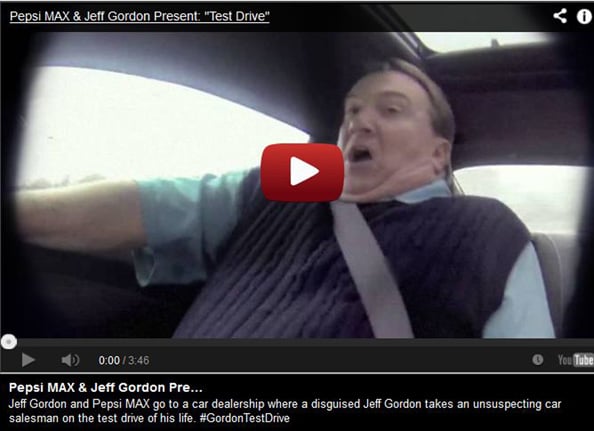 CONCORD, N.C. – Usually, when diet colas advertise, a common theme is "real cola" taste. But the latest Pepsi Max video has viewers asking, "Is this for real?"
This week Pepsi unveiled the video it shot at Troutman Motors and Philip Morris here in Concord in February. They got the response they wanted.
The video, which is promoting Pepsi Max, features NASCAR racer Jeff Gordon in disguise taking a test drive in a new Camaro. It has gone viral.
At last check, the YouTube video has more than 15.5 million views. the number of views doubled from Thursday to Friday. The Washington Post blogged about it. It's been mentioned on the national TV morning talk shows. The Smoking Gun called the Independent Tribune trying to find out who the actor playing the salesman is.
Gordon takes the salesman for a wild ride through the Troutman Motors lot, into Philip Morris, including racing along the top of a loading dock.
Facebook, Twitter and message boards are filled with comments about the video, some asking if it is real. One Facebooker says it can't be Gordon driving because he turns "right and left."
A Gordon fan from Kansas called the Independent Tribune wanting to know if the test drive was real. She also wanted to know if Gordon was as nice in person as he seems on TV.
She said she was disappointed that he would pull this hoax, but before she hung up said her family was going to give him a second chance, after being told that Gordon's a nice guy in real life.
Racer Brad Noffsinger, who works with the Richard Petty Driving Experience, did the stunt work for the production.
Gordon, disguised as "Mike." takes the test drive from Troutman Motors on Concord Parkway in Concord. Actors play all the parts while Troutman employees watched the production.
Everyone involved in the production signed confidentiality agreements and aren't allowed to talk about it.
Rain during parts of the shooting added another dimension, including a sliding splash while on the entry road to the old Philip Morris plant where most of the high-speed scenes were shot.
The video was produced by Gifted You, a division of Will Ferrell's Funny or Die company. About 75 people were employed during the shooting of the video.
Contact Mark Plemmons at 704-789-9140