Gilda Caputo-Hansen starts each day at 6 a.m. by putting a 10-gallon pot of thick, red sauce on the stove.
She hand-mills the perfect tomatoes, adds select spices and seasoning to her taste, chops carrots to add some sweetness and makes it her own with ingredients she keeps under wraps. Then it cooks. It's the base of many of the dishes at Caputo-Hansen's new restaurant, Rose & Daisy, in the town of Catawba.
Most of the Italian recipes she uses, including the sauce, come from her own kitchen and those of her ancestors. Rose and Daisy, her Italian grandmothers who immigrated to New York decades ago, passed their recipes down for generations. Now Caputo-Hansen is sharing them with her community and honoring her family traditions.
"They had a very huge influence on my life," she said. "There are so many recipes that are family favorites."
Next door to Rose & Daisy on Main Street in Catawba, Caputo-Hansen also owns The Landmark 1896, an event space she opened in May 2019. That business, which she moved to Catawba County to open, is the reason she also opened a restaurant.
After just a few months running the event space with meals catered by other companies, Caputo-Hansen knew she wanted her own food in there. By then, she found out the building next door used to be a restaurant. Opening her own restaurant in the space was only natural, Caputo-Hansen said.
"I couldn't have one and not the other," she said.
The biggest hurdle was getting the new space ready. The wood floors were discolored, the walls were covered in old paint and the dining area was filled with furniture and odds and ends. So from September to December, Caputo-Hansen spent her days cleaning, decluttering and painting.
Now, the restaurant is decorated with glittery and flowery decor. Pastel portraits hang on gold-painted walls that glimmer in the sun. Gold leaves surround the front door to the restaurant. A large mirror above a bar in the back brightens the dimly lit corner.
Complimenting the eye-catching decor, dark wood paneling runs on the lower half of the walls and deep red wood four-seat tables fill the floor.
The light and dark strike a balance, much like Caputo-Hansen and her chef and stepson Eric Hansen.
"We even each other out," she said.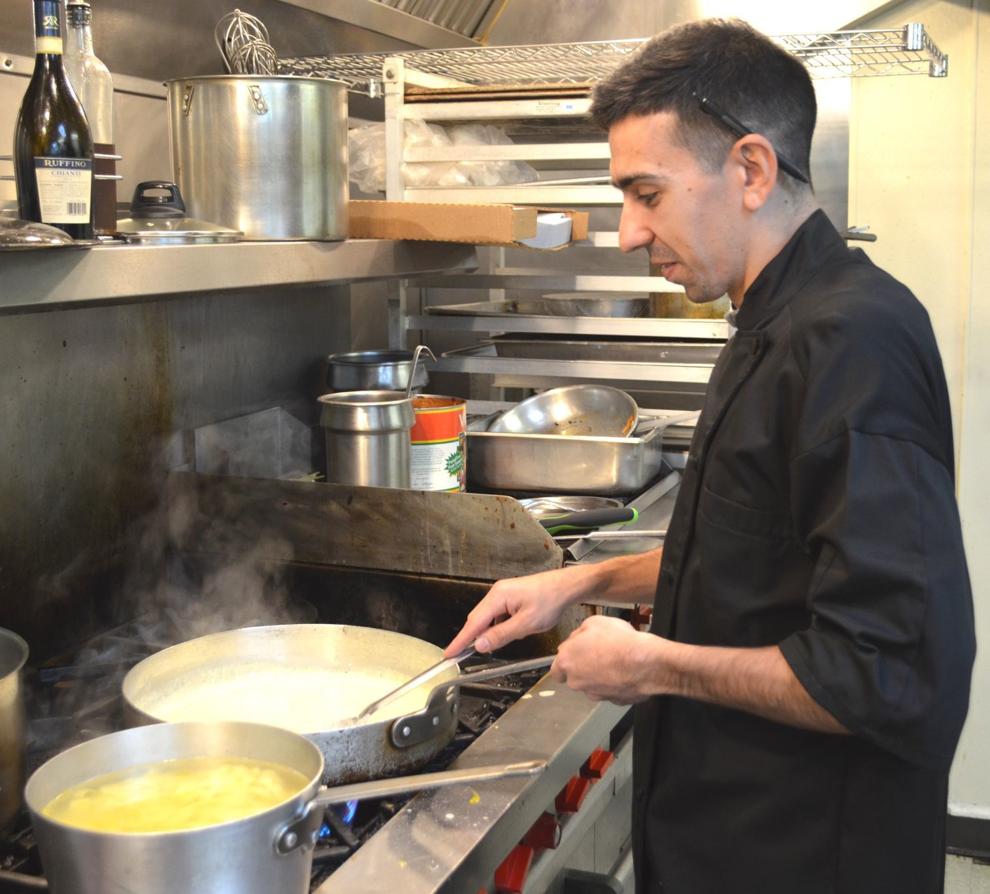 Hansen brings a level head to the business, Caputo-Hansen said. When she is full of excitement, Hansen keeps her down to earth. When she's feeling down on her luck, weighed down by business decisions, Hansen lifts her spirits. Together, they make a solid team, he said.
Hansen moved from New York to Catawba County to help Caputo-Hansen open Rose & Daisy. They developed the menu together and opened in late December.
"I'm enjoying it," Hansen said. "Everyone loves the food and everything about us."
Hansen said the secret to their food isn't complexity. it's the ingredients.
"You have to get the best ingredients," he said. "When you cook with the best, it makes the job easy."
The menu has appetizers that range from $3 garlic bread to $14 antipasto, an assortment of meats and cheeses. The salads are $5-10 and include a classic Italian Caprese salad with mozzarella, tomato and basil.
The entrees -- mostly pasta dishes -- range from $9 to $20. The choices include minimalistic pasta with oil and garlic or a simple marinara, handmade gnocchi, lasagna, ravioli, penne alla vodka and more. All use homemade pasta that Caputo-Hansen prepares each morning.
To top it off, dessert includes tiramisu, cannoli and cheesecake.
Caputo-Hansen hopes the place becomes somewhere the community feels comfortable, she said.
"It's making them feel special, it's more than just making them pasta, it's so much more," she said.
Caputo-Hansen wants everything to be made with love, just like her grandmothers did.
"I want (guests) to feel like this is grandma's living room or grandma's dining room," she said.