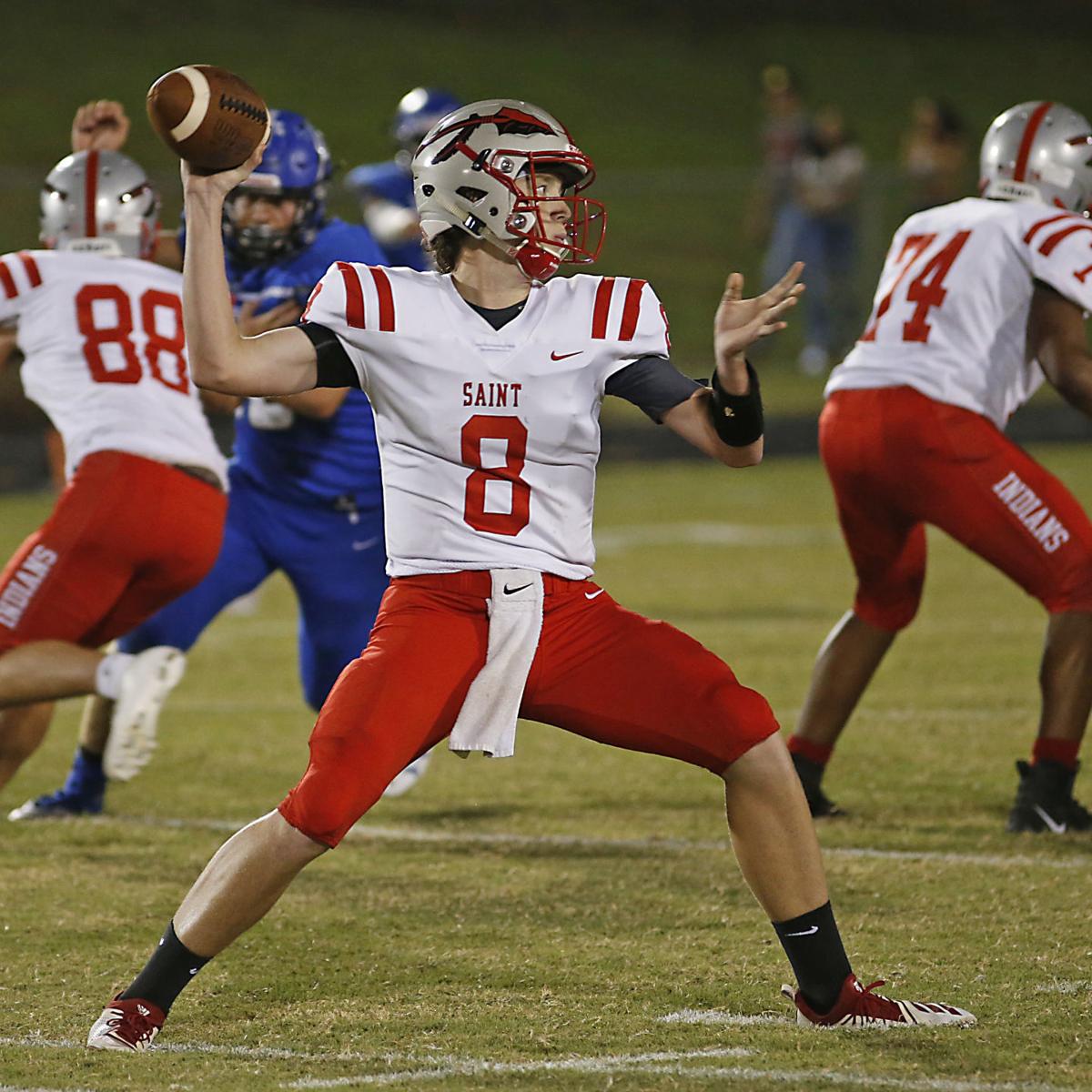 Although five teams in the Hickory Daily Record's 11-team coverage area spanning Catawba, Caldwell and Alexander counties have byes this week, there is still plenty on the docket for Week 5 of the high school football season. And with conference play kicking into high gear next week, tonight's contests will mark the final chance for local squads to gear up for the most important part of the season.
Here's a glance at the games scheduled for tonight (all kickoffs are set for 7:30 p.m. unless otherwise noted):
St. Stephens (1-2) vs. Fred T. Foard (0-4), St. Stephens Stadium in Hickory
The Tigers are the only team in the area to have played a league contest, as they opened Northwestern Foothills 2A Conference play with a 55-52 loss to Draughn two weeks ago. Nevertheless, Foard is still looking for its first victory of 2019 against a squad it has beaten each of the past two seasons.
Following an 0-4 start a year ago, the Tigers won six of their final seven regular-season games to reach the state playoffs for a second consecutive season. But this is a different Foard team, albeit one that still relies heavily on senior running back Corey Siemer (81 carries for 583 yards and 7 TDs).
For St. Stephens, the upperclassmen trio of senior wide receiver Zach Lee (22 catches for 304 yards and 3 TDs), junior running back Zak McLauchlin (50 carries for 256 yards and 2 TDs) and senior quarterback Connor Williams (406 passing yards and 4 TDs) have been the standouts. Senior fullback Matthew Hancock (38 carries for 163 yards) is another key contributor for the Indians, who are hoping to return to the playoffs for the first time since 2015.
Newton-Conover (2-1) vs. Burns (2-1), Gurley Stadium in Newton
The Bulldogs are coming off a bye last week following their second straight win, while the Red Devils dropped a 38-31 shootout at Hendersonville last Friday. Each squad has gotten it done both through the air and on the ground, with junior quarterbacks leading the way.
Burns is led by the dual-threat ability of signal caller Cam'ron Sweezy, who has 377 passing yards and seven TDs to go with 16 carries for 120 yards. Senior wide receiver KJ Leslie has been his top target, catching seven passes for 165 yards, while senior running back Kujuan Pryor has 25 carries for 221 yards.
On the other side, Justice Craig has been solid for Newton-Conover under center, passing for 583 yards and five TDs while rushing 13 times for 58 yards. Senior running back Allen Wilfong has 61 carries for 306 yards and three scores for the Red Devils to go with 12 receptions for 239 yards and two TDs from junior wide receiver Keagen Covington.
Hickory (0-4) vs. Ronald Reagan (3-0), Frank Barger Stadium in Hickory
Things don't get any easier for the injury-plagued Red Tornadoes in Week 5, as they host the 20th-ranked team in the state according to MaxPreps.com — 12th at the 4A classification — with the Raiders coming off a bye last week. Senior quarterback Gabriel Hollingsworth has passed for 450 yards and six TDs to go with 24 carries for 190 yards and four scores, while senior Daniel Moyer Jr. has 42 carries for 283 yards and three TDs and junior Sanchez Redden has 17 carries for 123 yards and a TD.
Three players have over 100 receiving yards for the Raiders, including juniors Tazhae Woods (8 catches for 157 yards and 2 TDs) and Bryson Canty (9 catches for 122 yards and 2 TDs) and senior Shavon Revel (9 catches for 118 yards and 1 TD). Ronald Reagan also has four interceptions on defense, with senior cornerback Josh Green picking off two passes and Revel and junior Adam Touchstone adding one apiece.
Hickory hasn't scored more than 12 points in any of its four contests, losing by an average of 27.3 points per game. Three of those losses have come at home, where the Red Tornadoes have lost four straight since a 55-54 win over South Caldwell last October.
Alexander Central (3-1) vs. Olympic (3-1), Cougar Stadium in Taylorsville
A pair of 3-1 squads will do battle when MaxPreps.com's 20th-ranked 3A team in the state, Alexander Central, entertains its 20th-ranked 4A team, Olympic High out of Charlotte. Members of the all-4A South Mecklenburg 7 Conference, the Trojans have already played the state's overall No. 1 Myers Park (losing 42-0) and fellow 4A squads North Mecklenburg (winning 35-14) and Independence (winning 29-28).
On the other side, the Cougars handed Hibriten its first regular-season loss since 2015 in the season opener before defeating Wilkes Central 28-12, losing to Statesville by a 49-35 final and beating South Iredell 48-7. Senior running back Steven Montgomery has been at the forefront of Alexander Central's strong start, amassing 701 yards and four TDs on 70 carries.
Olympic also has a talented ball carrier in junior Cameron Smith, who has 82 carries for 662 yards and three scores. Junior quarterback Sean Bowles is a threat on the ground as well, rushing for 69 yards and six TDs in addition to his 238 yards and two scores in the passing game.
South Caldwell (2-2) at R-S Central (3-1), Hilltopper Stadium in Rutherfordton
After a 2-0 start, the Spartans have dropped two straight. Meanwhile, the Hilltoppers are off to their first 3-1 start since 2015 behind a prolific rushing attack that includes sophomores Jaiden Coston (62 carries for 428 yards and 4 TDs) and Xavier Toms (32 carries for 325 yards and 4 TDs), senior CJ Hannon (19 carries for 144 yards and 2 TDs) and sophomore Ken Hines III (30 carries for 143 yards and 2 TDs).
R-S Central's quarterback, Coston also has seven completions for 170 yards and two TDs, both to junior wide receiver Jayden Hooper. Hooper has three receptions in all for a total of 125 yards.
South Caldwell has struggled with turnovers, losing three fumbles and being picked off six times. Still, the Spartans have talented playmakers like senior running back Spencer Piercy (63 carries for 435 yards and 6 TDs), junior quarterback Avery Raynor (283 passing yards, 256 rushing yards, 6 total TDs and senior wide receiver Austin Raynor (7 catches for 76 yards and 1 TD) who will be looking to get back on track.
Be the first to know
Get local news delivered to your inbox!