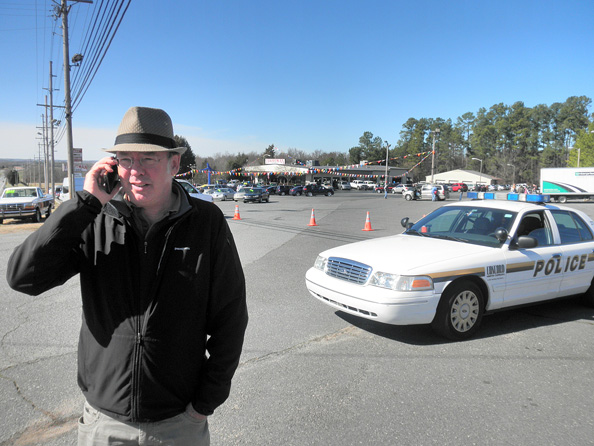 CONCORD, N.C. – A film crew is busy this week in Concord shooting a commercial with a NASCAR driver at Troutman Motors and Philip Morris.
Details of the commercial are being kept secret.
It does involve a driver, a black Chevy Camaro and Pepsi.
"They want it to be a surprise when you see it on TV," said location scout and manager Peter Minor.
Another location scout, Wes Johnson, who works with Minor, found Troutman Motors for this week's project.
Racer Brad Noffsinger, who works with the Richard Petty Driving Experience, is doing stunt work for the production. He was practicing at the lot Monday afternoon.
"Cabarrus County has always been one of the best places to film, as evidenced by the Philip Morris plant with filming of the 'Hunger Games' and 'Homeland,' Minor said. "That place is invaluable for the kind of work we do."
Minor has worked on numerous projects during a 20-year career, including "The Hunger Games" and "Talladega Nights."
The bank of pine trees behind Troutman Motors made it an attractive location, in addition to the size of the location and the cooperation of the Troutman family, Minor said.
"It really comes down to the bottom line with these people and the ability to get a tax rebate helps them, and it helps to employ all these people who are paying income tax and sales tax and other kinds of tax. The rising water floats all the boats," Minor said.
The shoot at Troutman Motors Tuesday had about 75 people working. All are independent contractors.
"We work from one job to the next. There are several other TV series looking in the area, so it's really exciting that the success of Homeland has drawn a lot of interest to the Charlotte area, and we always look to Cabarrus County first because there's a lot of history here," Minor said.
Downtown Concord is particularly attractive for film crews and production.
Minor said an untitled TV series is looking at the Hotel Concord and 57 Union St. "You can't find those spaces in Charlotte any more because they tore them down. We look at towns that are interested in preserving some of their history to get some of these older looking locations."
Production crews are moving to the Charlotte area from California because they like the area, people like the Troutmans are easy to work with, and the close proximity to the race shops is a plus, Minor said.
"It's not necessarily cheaper. They're finding out that it is better. Look at "Homeland," the number-one TV show. That's a huge deal," Minor said.
Minor just finished working with a company that produced a Kioti Tractor commercial that was filmed in Zemosa Acres in Concord.