Some people believe in ghosts. Others believe in aliens.
Hickory man Doug Teague believes in Bigfoot, and he claims he had an encounter with the monstrous creature in the McDowell County area on Aug. 16.
Teague is part of the Bigfoot investigation crew Catawba Valley Bigfoot Research.
At a Bigfoot information session led by the Marion group Bigfoot 911 at the Hickory library in 2017, Bigfoot was described as a creature that walks on two legs like humans. Bigfoot is said to grow to be 6 to 9 feet tall and weighs anything from 600 to 900 pounds.
Signs that Bigfoot might be nearby include wood knocking and rock throwing, which is what Teague said he experienced in McDowell County the other week.
Walking through the woods with his dog, steadfast companion Crazy Daisy, Teague was attempting to recover some trail cameras he'd put up when he heard some wood knocking sounds.
"I just passed it off as a woodpecker," he said.
Then things changed. Something in the woods was throwing rocks.
Excited, Teague said he took out his phone and started videoing the experience. He was also able to snap some photos of what he claims is Bigfoot sitting down.
When asked how he knows that he didn't take a photo of a bear he said: "Bears don't throw rocks."
Crazy Daisy will approach a bear, Teague said, but she won't approach a Bigfoot.
"She was going nuts but staying close to me," Teague said.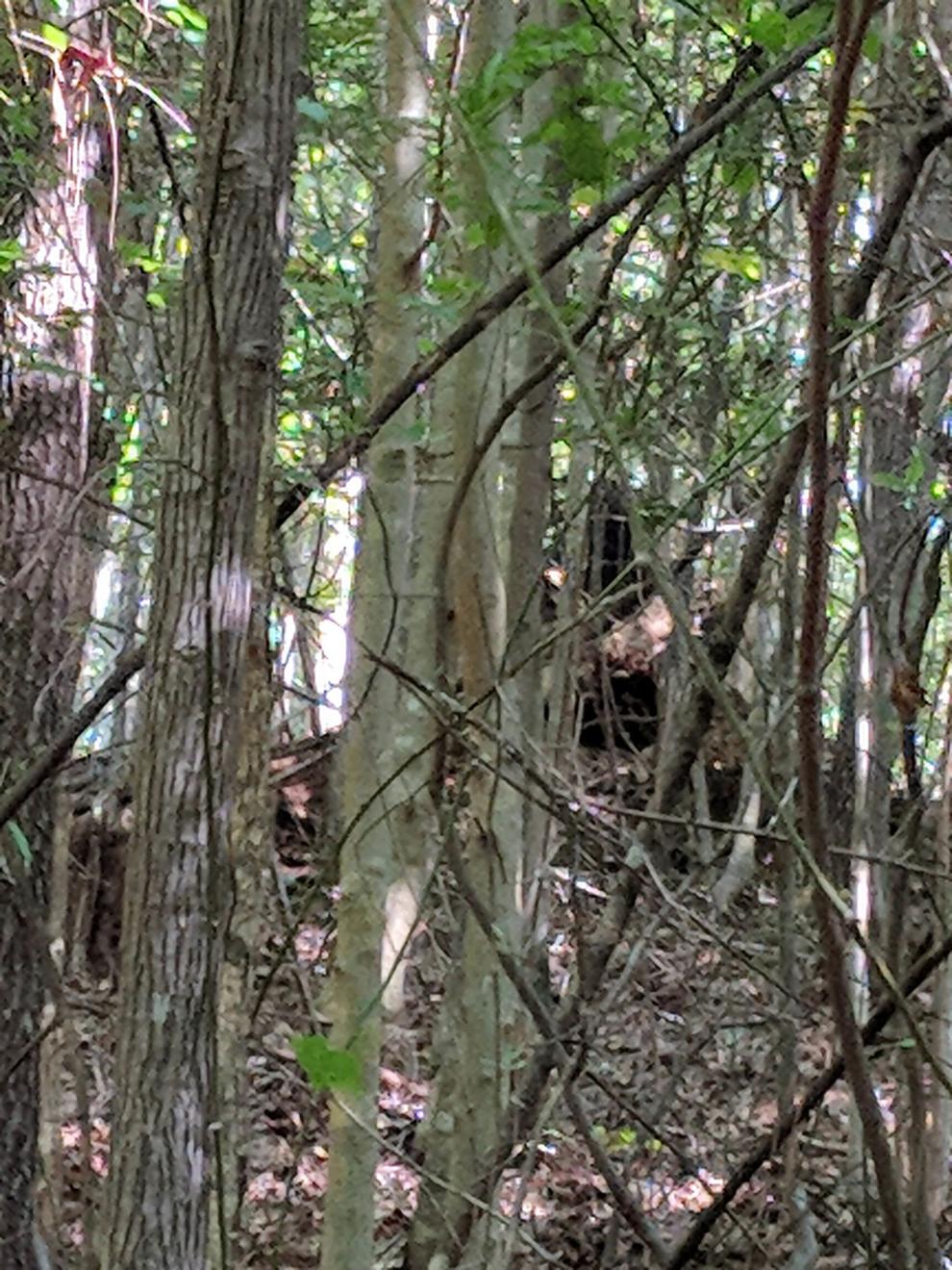 Teague went into the woods not planning on looking for Bigfoot at that time of the day. It was about 3 to 4 p.m. in the afternoon and roughly 90 degrees.
Ideal Bigfoot investigating conditions occur at early morning or dusk at 40 to 70 degrees with no leaves on the trees, Teague said.
Teague has been looking for Bigfoot for nearly a decade.
"It's always been an interest," Teague said. "I'm a gorilla freak. I love gorillas."
Bigfoot is often described as looking like an oversized gorilla.
Teague said he tries to make it to the Marion area often, which is known in the Bigfoot investigating community for being a Bigfoot hotspot. Bigfoot investigating has become so popular, that the city will be hosting its second annual Bigfoot Festival on Sept. 14.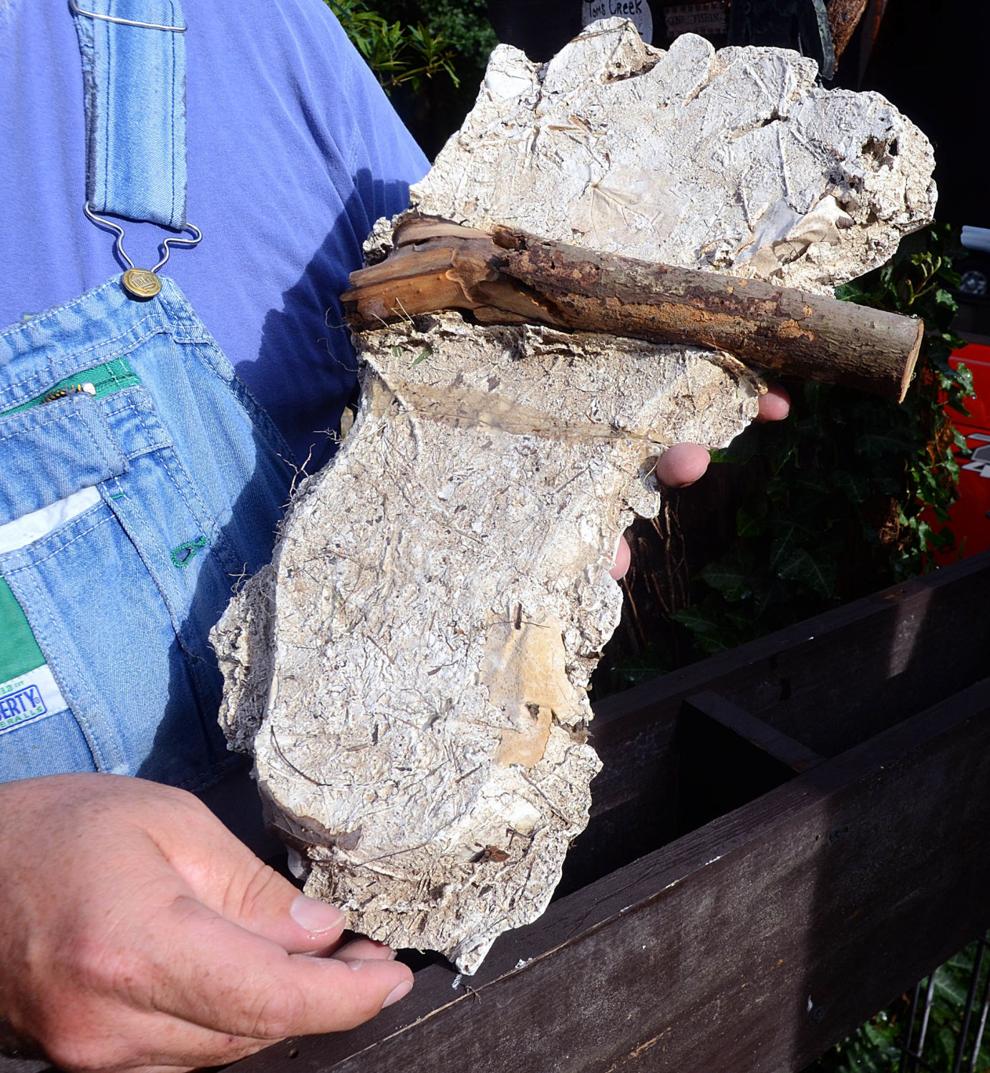 When investigating Bigfoot, Teague said he brings what most hikers bring with them to the woods: A map, walking stick and food. Except most of the food isn't for him. It's for Bigfoot.
"(They like) granola bars, apples, mushrooms, turnips, Moon Pies," Teague said. "They like sweets."
Teague also brings casting materials to make a cast of any Bigfoot footprints he may find along with a scope, which works like binoculars.
His latest Bigfoot print cast is from July. Watch the video here:
Teague describes investigating Bigfoot as a thrill.
"I'm almost 54 years old and I was like a giddy kid," he said about his latest encounter. He's only encountered Bigfoot four times.
What scientists say
Marsha Fanning, professor of biology and chair of the school of natural sciences at Lenoir-Rhyne University, said she's never seen any evidence Bigfoot exists.
"I'm a field biologist," she said. "I'm pretty sure if such a thing existed by now we'd have some evidence for its existence beyond the random sightings reported around the world."
While there's no proof that Bigfoot exists, there also isn't any proof Bigfoot doesn't, says Bruce Beerbower, lead naturalist at the Catawba Science Center.
Beerbower has heard tales of large, ape-like creatures lurking in the forest since the 1970s. Beerbower grew up in West Virginia, but has heard stories of Bigfoot sightings in Western North Carolina since he first came to the area decades ago.
"I, for one, hope there is a Bigfoot," Beerbower said. "I also hope no one ever finds them."
Beerbower is afraid if Bigfoot does exist, they would be the victim of trophy hunting. He likes the idea of there being creatures out there in the world humans do not know about.
Several years ago, the Federal Bureau of Investigation declassified its Bigfoot file and published the pages online.
After some pressure from the media and a Bigfoot research group, the FBI tested a tissue sample and some hairs that were sent to them in the 1970s. The Bigfoot Information Center, who sent the sample, said they believed it belonged to Bigfoot.
It took several years, but finally the FBI decided to evaluate the sample. The tissue came from an animal of the deer family origin, the documents say.
Teague is aware that most people think Bigfoot is just an urban legend.
"People don't believe in 'em, but they're there," he said.
Jordan Hensley is the court reporter at the Hickory Daily Record. ​