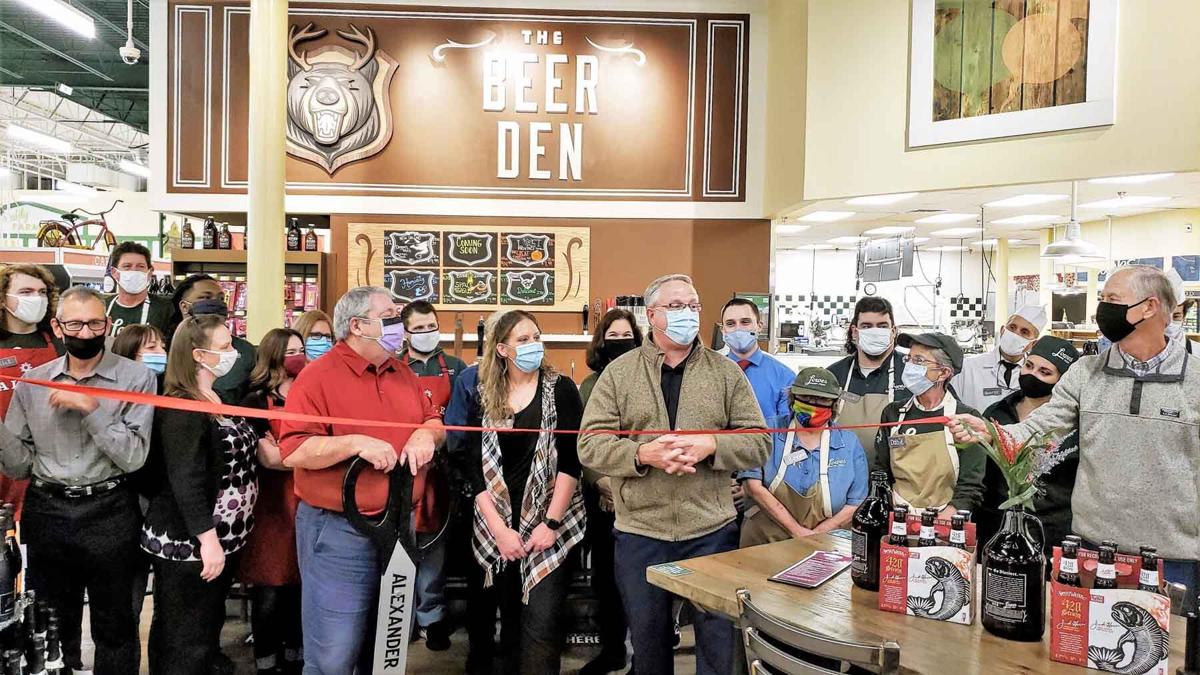 BETHLEHEM — Lowes Foods has renovated its store at 9441 N.C. 127 in the Bethlehem community of Alexander County. The completion of updates to the Bethlehem store means that all Hickory-area Lowes Foods have been renovated. There are four Lowes Foods stores in the Hickory area: Viewmont, Belle Hollow, Mountain View and Bethlehem. 
"The Bethlehem store includes a Lowes Foods-To-Go area to meet the growing demands of shoppers who order online and simply pull up to the store to get their groceries," Lowes Foods President Tim Lowe said. "Lowes-Foods-To-Go has been extremely popular with consumers in recent months, and we're pleased to offer it at the renovated Bethlehem store.
Lowe said that since Lowes Foods began introducing The Beer Den in its stores several years ago, the concept has been embraced by shoppers as one of their favorite parts of the Lowes Foods experience.
"We believe store guests in the Bethlehem area will quickly fall in love with The Beer Den experience along with the store's new Chicken Kitchen and Pick & Prep areas," he said.
Lowes Foods Originals featured in Alexander County's Bethlehem store include: 
• The Chicken Kitchen includes a variety of prepared chicken that is fresh and never frozen, locally sourced, and is raised with "no antibiotics ever." When hot chicken comes out of the rotisserie oven, the animated chicken chandelier signals the start of Lowes Foods' special chicken celebration, including a unique version of the Chicken Dance.
• Pick & Prep offers shoppers help by cutting prep time in the kitchen so they can enjoy a little more quality time at the table. Pick & Prep chefs cut, slice, dice, mince, and cube your fruits and vegetables the way you prefer, while you shop. Pick & Prep also offers an array of packaged, grab-&-go fruits and veggies that are cut fresh throughout the day.
• The Beer Den offers a selection of crafts and drafts that is varied, local and refreshing. There are seasonal offerings of unique beers, special events, tap takeovers, and growler fills on-site. In addition, guests can "sip and shop" with a pint of beer or a cup of wine.
A ribbon cutting was hosted by the Alexander County EDC on Nov. 14 to celebrate the re-opening of the renovated store. Alexander County commissioner Larry Yoder was welcomed by Chris Van Parys, Lowes Foods' senior vice president of operations, and Kasey Bolick, general manager of Bethlehem Lowes Foods.
Members of the Bethlehem Business Association were also in attendance to show their support of Lowes Foods and its service to the citizens of Bethlehem. Yoder praised the Bethlehem Lowes team for their customer service and kindness during the pandemic. He also expressed his appreciation for Lowes Foods' investment in Alexander County.
Founded in 1954, Lowes Foods employs nearly 9,000 people and operates 74 full-service supermarkets in the Carolinas. To learn more, visit lowesfoods.com. Lowes Foods, LLC is a wholly owned subsidiary of Hickory-based Alex Lee Inc.